41 ROSE STREET, RAGLAN
SIZE:
Land: 986sq m; floor area approximately 120sq m
PRICE INDICATION:
Expected interest above $600,000. Rateable valuation: $575,000. Local rates: $2849. Auction on site: 41 Rose St, Raglan, Saturday, February 1 at noon (open 45 minutes prior)
INSPECT:
Sat/Sun 1:1:45pm
CONTACT:
Paul Studman, Barfoot & Thompson Remuera ph (09) 524 0149, 021 998 563, p.studman@barfoot.co.nz. Kyle Leuthart, LJ Hooker George Boyes & Co. Raglan ph (07) 825 7170, 021 903 309, leuthart@hotmail.com
FEATURES:
*Offstreet parking for 4 cars and a boat. Features: Three-bedroom 1940s bungalow with large decking and expansive views over Raglan Harbour. Plenty of offstreet parking for a boat plus close to jetty.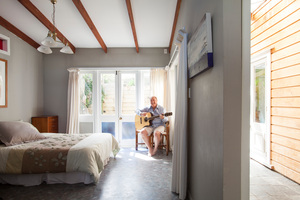 He's a New Zealand icon, so it comes as no surprise to find that veteran bluesman Midge Marsden's harbourside home in Raglan has many of the special features that define Kiwi culture.
Spacious and airy, the property enjoys panoramic views of the town's picturesque inner harbour and of the newly restored cement silos across the road which have recently come back to life as luxury holiday apartments. There's a busy restaurant and bar practically at the bottom of the driveway so driving home after a night out needn't be an issue. The bustling town centre is an easy 10 minutes' walk away with lots of lovely restaurants, cafes and shops to explore.
The property is also well positioned for taking advantage of Raglan's world-famous surf beaches.
Midge's place has grown considerably since he bought in 1980. These days the former boathouse boasts three double bedrooms - the front one with spectacular views - and a large open-plan living area with a little side annexe, where Midge keeps all his CDs. Three blue leather couches will be included if the new owner wants them.
"They are so comfortable. You sit down, and before you know it, you're asleep."
A spacious well-equipped kitchen has everything a family - or group of holidaymakers - could possibly need, and the house has full laundry facilities. The second bathroom has a restored clawfoot bath and off the back bedroom is a cute little study with lots of shelves.
Not surprisingly, these are filled with LP records and Midge acknowledges he has quite a task ahead when it comes to moving his possessions back to the Auckland dwelling he shares with partner Karen.
In fact, he's feeling a little sad about selling his Raglan base. "This is a good house at any time of year. In winter it's very cosy, especially if the wood burner's going, and in summer we more or less live outside on the front deck. I'm a very keen gardener so I like to potter around at the back."
Over the course of his career, Midge has travelled the world and met many of his blues heroes. "My old friend Stevie Ray Vaughan came to stay once, and he just loved sitting here, quietly enjoying the view.
"He also fell in love with our kiwifruit and would put the whole thing in his mouth," Midge remembers with a smile. "I told him we don't eat the skin but he couldn't understand why!"
Comedian Gary McCormick and former All Black Josh Kronfeld have also been regular guests at Whare Midge, the latter an occasional muso himself.
"There's been a lot of music made here. It's quite a creative sort of place.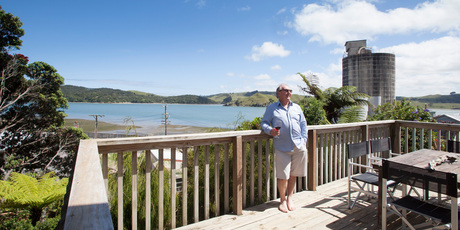 "We're selling up because it gets a bit tricky keeping two properties going. I've got a job I love as groundsman at an Auckland rest home so we don't get down here as often as we'd like. It's a really great place and has lots of wonderful memories but it just feels right to be moving on now.
"This could be a great family home," Midge says. "There is still quite a lot of potential in terms of adding on, and making it even bigger.
"But what I'd really love is if somebody bought it for holiday letting, just as it is, then Karen and I could come back for a couple of weeks each year."