515B HIGHWAY 22, PUKEKAWA
SIZE:
Land 5.4ha, house 672sq m.
PRICE INDICATION:
$3.495 million.
SCHOOL ZONES:
Pukekawa Primary, Tuakau High School.
CONTACT:
Steve and Lisa Stone, Harcourts, ph 520 8126 or 021 04 674 (Lisa) or 520 8121 or 021 966 499 (Steve).
FEATURES:
New luxury home on scenic lifestyle block. Cedar weatherboard and block construction. Gourmet kitchen with Miele appliances and scullery. Outdoor fireplace, infinity pool, plus paddling pool in courtyard. Underfloor heating in bathrooms. Games room, home cinema, gym, formal and informal lounges and office. Huge separate shed.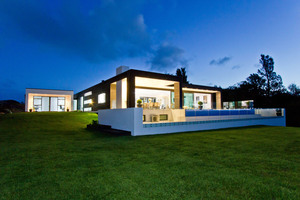 In the 14 years that Igor Sutich has been in the property development game, he's ended up with some amazing houses. But nothing compares to his current home.
"It's definitely the most spectacular place I've ever had," he says of the contemporary Hollywood-style house that sits on 5.4ha of rural land in Pukekawa.
Igor, who is also the chief executive of an internet company, admits he bought the house as a project. The previous owners put it on the market when it was about a quarter finished and they had run out of funds, and he thought he could complete it and flick it off quickly for a profit.
"But I soon realised this was a pretty special home and I wanted to live here," says Igor. "You don't find houses like this every day."
The fact that everyone who has helped to create the striking home - from the builders and architects through to the painters - wants to enter their work in trade awards is a sign that they're proud of what they have done.
"A lot of effort has gone into this house," says Igor, who made sure everything was top quality, from the material used to construct the house through to the fixtures and fittings.
He was attracted by the stylish symmetry and deceptively simple design of the house, which has recently been finished. He didn't change the original plans, drawn up by Kris Wilson of Design House Architecture, apart from turning a formal dining room into an informal "chill-out" room. He also kept the builder who had started work on the house - Kris' father, Steve Wilson.
"Steve has been amazing. He is an old-school builder who takes so much pride in his work and makes sure everything is done properly. Both he and Kris have put so much into this house."
The fact that this is no ordinary home is evident from the moment you arrive at the front, which is dominated by the hotel-style portico. The door opens into a double-height marble foyer and from here you can see through glass doors to the internal courtyard with ornamental pool; beyond that to the living areas, swimming pool and the rural outlook. "It's quite an entrance," says Igor.
The house wraps around the courtyard and has wings off to each side. The eastern wing contains an office and two bedrooms, and the western one is home to the games room, which has a pool table and a bar. There is also a basement with home cinema (a projector can convert movies to 3D) and another room that Igor uses as a gym. It could be a children's playroom.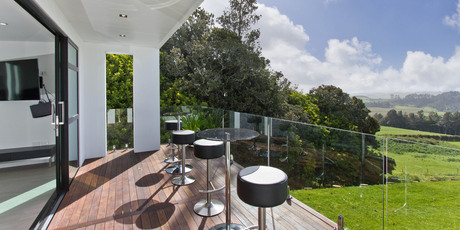 In the main house are four more bedrooms (two with en suites), a powder room, laundry, two guest bathrooms (including a huge, 25sq m marble one) and more living areas. As well as the informal TV room, there's a formal lounge and the open-plan living/dining/kitchen.
"It's a very big house - it is easy to get lost in it," says Igor. "When I first moved in it took me a while to figure out the quickest way to get from one part of the house to another. I kept going the wrong way."
He tends to spend most of his time in the north-facing living area that opens on to the paved deck and infinity pool. The view over the rolling countryside is soothing, and at night the lights of Auckland City twinkle in the distance.
The partly covered deck comes with an outdoor fireplace, and is perfect for entertaining. On days when it is a little windy, the internal courtyard provides an alternative place to sit.
"The pool is not just decorative - it is chlorinated so children can use it as a paddling pool," says Igor. As well as single and double internal-access garages, there is a 180sq m shed. "It would be ideal for a car enthusiast - there's plenty of room for a car collection."
Igor enjoys living somewhere so private yet surrounded by friendly neighbours - and only 45 minutes into the city, off-peak. He intended to stay long-term but the break-up of his marriage means the property is now for sale.
"I think it will make a fantastic family home, and it really needs the pitter-patter of lots of pairs of feet," he says.