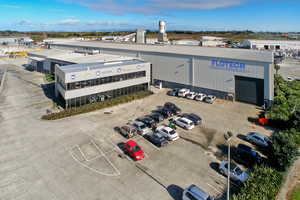 A large, near-new industrial facility at 11 Vogler Drive in the popular industrial suburb of Wiri, South Auckland, is being offered for sale or lease.
The complex comprises a modern, high-quality building on a 1.5ha site with excellent road-front profile to Roscommon Rd and signage exposure to State Highway 20.
It is being marketed by Paul Jarvie, Dwayne Warby and Greg Goldfinch and is featured in Colliers International's latest New Zealand Portfolio magazine.
"This is a stunning property which has the capacity to suit the needs of a wide range of owner-occupiers or tenants," says Jarvie.
"It is a branding dream for a business, being two minutes' drive to the SH20 motorway interchange at Roscommon Rd.
The building has outstanding street-front profile and is visible from the motorway."
He says the current owner is open to a wide range of offers to purchase or lease all or part of the vacant site.
"With a flexible vendor open to various options, this is a great opportunity for one or more businesses to move in to a ready-to-go, A-grade facility in a prime location."
The property comprises nearly 5000sq m of floor area across a high-stud, clear span warehouse of 3348sq m and high-spec offices of 1594sq m.
Warby says the modern office fit-out is "absolutely top notch" and of a much higher standard than normally expected in industrial premises.
"It would make an excellent head office facility," he says.
The warehouse has multiple high-capacity gantry cranes, canopies and roller-door access to the fenced and concreted 2600sq m yard with space for parking and container storage.
Goldfinch says a further 4000sq m of land is available on the property for future expansion or subdivision.
"Options to add value in the future include subdividing or leasing the surplus land, or dividing the existing warehouse and office areas into two units to meet a wide variety of operational requirements. Alternatively, the existing building could be extended on to the development land to provide a much larger facility.
"With the great flexibility this property offers we expect to receive interest from investors and developers, as well as owner-occupiers in a wide range of sectors, which could even include non-industrial users such as a church."