The global financial crisis is left behind as transactional volume and investor confidence rebound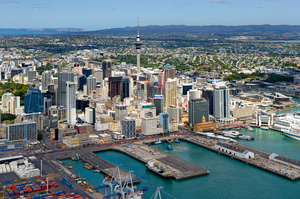 Commercial property sales throughout New Zealand have already hit their highest value level in six years with the year still to close.
"As we head into the final stages of 2013 we have observed a marked uplift in larger commercial property sales with over $1.8 billion in transactions," says Nick Hargreaves, managing director of Jones Lang LaSalle.
"This compares to $1.46 billion in total commercial sales in the full year 2012, and is the largest value of sales since 2007 [before the global financial crisis].
"This year offices have come to the fore, with sales totalling $900 million transacted this year. The largest of these was 1 Queen St, which sold for $103 million at an initial yield of 7.7 per cent."
Hargreaves says the market has rebounded this year in terms of transactional volume, positive results and confidence, and "increasingly demonstrates it has moved to the next stage of the recovery from the global financial crisis".
"This recovery is being reflected across our own business," he says.
"Our valuations team in particular has been across more transactions and has completed $6.3 million in fees. The impact of the upturn in the property market has allowed us a 16 per cent increase in staff this year alone."
Seismic rating issues have also had a major effect, three years after the Canterbury earthquakes. "Although the value impact of the various seismic-rating systems remains obscure, the market is now at a point where wholesale progress can be made. Firms have now developed the skill set and have the employees to deal in wholesale terms with the challenges seismic issues present."
Jones Lang LaSalle sales and investment broker John Binnings says the agency has seen more interest in the past year than he has ever seen from international investors looking for the safety and relative stability of the New Zealand market.
"We have sold $500 million worth of good-sized properties this year to international investors who for the most part would be small-time investors in their own market.
"However, the appeal of the New Zealand market and the perceived upside here compared to other markets globally means we have a strong level of appeal that is likely to intensify over the next year."
Justin Kean, director of research and capital markets for Jones Lang LaSalle, says the capital markets for commercial property in New Zealand have seen considerable pressure from increasing levels of investment.
"With several successful capital raisings on the NZX - including Argosy Property, DNZ Property Fund and Precinct Properties, and with several more likely to hit the market in the first half of 2014 - there is no end in sight for the yield pressure that we have seen through 2013."
Kean says the clearest capital trend to come out of this year, however, has been the increase in mid-sized international players from China, Singapore and Zurich, for example, who are looking to invest in the New Zealand property market.
In relation to office leasing in Auckland, Jones Lang LaSalle national director of markets Mark Grant says certain properties and micro-markets in the central business district are now seeing good rental levels.
"However, overall there is a lack of transactional evidence that landlords can really pin their rental increase hopes to at the moment. We would expect these transactions to manifest through 2014, making it the 'year the worm turned' with landlords looking to lower incentive levels and push for rental increases in good-quality, well-located property."
Grant says positive economic indicators have given occupiers confidence to relocate to higher-quality premises in the Auckland CBD core.
"This is an area currently experiencing tightening availability with a lack of new supply that will be restricted until the last half of 2015, with the full effect of new supply not being felt until 2017," Grant predicts.
"With this positive net absorption in the Auckland CBD, we have also seen high levels of activity in the fringe and suburban areas, and expect to see a continued knock-on effect in these areas with incentive levels declining as supply tightens.
"Proactive owners who have been quick to refurbish existing space, present it well and capture this activity have been the net beneficiaries."
Grant says Wellington is still feeling the effect of a government reduction in occupied space. "But A-grade space is now tight and owners in the higher-quality B-grade buildings are now positioning themselves to capture this opportunity."
According to research published by Jones Lang LaSalle, retail in its most recent cycle of 2013 has remained the slowest-moving asset class in terms of occupier demand.
"Although retail yields firmed considerably over the past 12 to 18 months, actual rental growth has been limited at best," says Chris Beasleigh, Jones Lang LaSalle's head of retail.
"This in many ways reflects that, despite an improving economy, the retail sector overall continues to suffer from discounted sales at a loss of profit, as well as very strong levels of competition.
"However, we have seen a very stable rental profile for most retail asset classes, with 2013 showcasing the growth of the food-consumption sector including cafes, bars, fast food and takeaways.
"We also saw a number of new retail convenience developments this year that will continue into 2014. These developments were anchored by either fast-food drive-thru occupiers or childcare operators taking new design-built centres. We believe both of these two anchor trends will continue to grow next year," Beasleigh says.
"Next year we hope to see increased activity in the bulk-retailer sector, and more new retail development across the country including new shopping centres."
International fashion retailers Zara, Topshop and Forever 21 have opened in a 1900sq m retail site in Brisbane, negotiated by Jones Lang LaSalle, and should follow suit here once they have completed their "footprint programme" in Australia, says Beasleigh.
In the industrial market there was an overall improvement this year. "The Auckland industrial market continues to show good balance between supply and demand, with vacancy across the board remaining steady and low," says Sam Smith, national director of industrial sales and leasing at Jones Lang LaSalle.
"We saw industrial space swallowed up quickly as momentum between supply and demand balanced out, with no significant movement in rent," he said. "Rents remained stable both in primary and secondary markets, as has been the trend over the last few years, and incentives have reduced. Investor interest in the sector in general is strong and yields have continued to contract as a result.
"With limited supply of industrial stock within consolidated areas, tenant options are restricted and, in an improving market, design-build requirements are increasing. As a result of the pressure of this demand, industrial landowners are beginning to release land for construction."
An area of commercial property that has seen good improvement in the past year is the hospitality sector. "The New Zealand hotel market has reported strong trading fundamentals this year across all of the major city and key tourist centres," says Stephen Doyle, vice-president of the New Zealand Hotels and Hospitality Group for Jones Lang LaSalle.
Doyle says a recent survey shows average hotel occupancy for Auckland for the year to November is up from 76 per cent to 79 per cent, while the average room rate was up 2.9 per cent to $139. Rotorua's occupancy rate went up by 4 per cent, from 64 per cent to 68 per cent, with the average room rate unchanged at $100. Wellington's occupancy is up 2 per cent, Queenstown's by 5 per cent and, as an exception, Christchurch's is down from 82 per cent to 78 per cent.
Doyle says office-to-hotel conversions are under way in Auckland and Wellington. "In Auckland, the former Reserve Bank building will become a Sofitel So Hotel with 133 rooms; the former Swanson Towers will become a Travelodge Hotel with 104 rooms; and a further office-to-hotel conversion is under way on Queen St by the VR Group which, when complete, will comprise 90 rooms.
"In Wellington, an estimated $35 million is being spent adding several floors to the top of the old Enza head office in Bolton St, converting it into a 130-room, five-star Sofitel Hotel."
Christchurch has seen several new hotels and re-openings this year, such as Rendezvous Hotel Christchurch, Quest Christchurch, Copthorne Hotel Commodore, Heritage OGB Christchurch, Novotel Christchurch and Rydges Latimer Hotel.
"Chateau on the Park is scheduled to complete building and guestroom repairs and Sudima Hotel has commenced a hotel addition comprising 42 rooms," says Doyle.