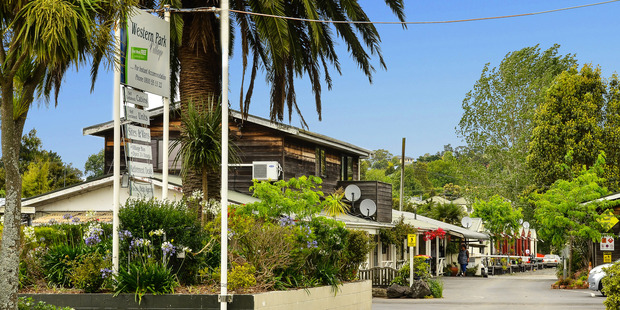 The Western Park Village caravan park, on a big site in the heart of the West Auckland suburb of Ranui, is for sale for the first time in 16 years.
Marketing agent David Savery of NAI Harcourts, Henderson, says the freehold Waitakere property and going concern business are being sold by tenders closing on February 19.
"This nearly 3ha property is in two titles at 522 and 524 Swanson Rd and houses up to 300 people," Savery says.
"It has been a very successful business over the years with many rents being paid directly by Work and Income New Zealand. "
The park has 33 cabins, 25 units, 51 vans, 12 trailer homes, one bus and 13 privately owned dwellings where owners pay ground rent. There are also 14 powered sites.
Its occupancy rate is consistently above 90 per cent. Residents pay rent and may incur additional charges for cleaning, linen, microwave or television hire, and use of a washing machine and dryer.
Savery says occupancy has grown year on year because of the lack of affordable housing in Auckland and rising housing rents. "With about one third of the site undeveloped, this presents an opportunity for a new owner to expand the business further," Savery says.
"It is a huge site and while it has always been a very good cashflow business for the current vendor, there is substantial potential to increase this in the future by redeveloping the property with more permanent housing under the current Residential 9A zoning."
The caravan park is adjacent to the Ranui Domain, a public park and popular sports ground and is within walking distance of the Ranui railway station, the Swanson shops and primary school.
Savery says the park caters for those needing temporary housing although many residents have made the property their permanent home. It is estimated that 10 per cent of residents are employed and the rest receive benefits.
The park has been upgraded with a renovated ablutions block, and work is about to start on the second facility used by residents.
There is a three-bedroom manager's house and eight staff are employed.
New portable cabins are being added all the time to replace the park's caravans. These are constructed on an adjoining site. Savery says this site, with a workshop and more accommodation units, is also available for sale separately.
Owner Darryll Heaven says: "Income has grown every year from this business, whether there has been an economic downturn or not. Our turnover has increased regardless of whether things are going well or not in the economy."
He says that while the site is basically flat, there are some elevated areas towards the railway line, and if a new owner cared to build a two-storey home they would get good views over the city including the Waitemata harbour and the Sky Tower.