410 CLEVEDON KAWAKAWA RD, CLEVEDON
SIZE: Land 20.2ha. House approx 420sq m. (Plus two cottages and further chalet accommodation.)
PRICE INDICATION: Looking for interest above $4.5 million. Tenders close Friday, December 20.
INSPECT: View by appointment.
NEAREST SCHOOLS: Clevedon Primary but buses to all major private schools from Clevedon.
CONTACT: Peter Sullivan, Bayleys, ph (09) 295 1197 or 021 733 278; Denise Jenner, ph (09) 295 2280 or 027 255 5022.
FEATURES: Immaculate seven-bedroom home plus two cottages and bunk rooms on 20.2ha, with equestrian facilities including stables, arena, horse walker, 800m oval track and lunging ring. Paddocks provide excellent grazing on an easy contour. Half-hour drive to airport.
Steve Cohen wasted no time when he learned this Clevedon lifestyle property with equestrian-specific buildings was for sale.
Within days of hearing about the outstanding property, Steve had booked flights from France to travel halfway round the world to Auckland.
"I was in Europe looking for a new place to go. I didn't want to stay in Europe," he recalls. "A Dutch friend was living in Clevedon and called to say this property was for sale. I took a plane out to see it three days later. The road from the airport to here was the only place I saw, and I loved it.
"I sent pictures to my wife, Monica, and the kids. Everyone said how exciting it was to do something like that. I asked them to hold the auction for me to have the time to arrive."
Steve, Monica and their children, Megan, Melanie and Logan, bought the 20.2ha property in 2003 and, for the past 10 years have been breeding and producing high-level show jumpers after bringing out three Lindberg Des Hayettes horses from France - one stallion, one mare and one gelding.
Steve explains the main purpose was to use the French stallion to cover thoroughbred mares, specifically for New Zealand. "They have worked very well. We have two horses in Europe going very well."
The property was already set up as an equestrian centre, with stabling for 30 horses, an Olympic-size arena, horse walker, 800m oval track and lunging ring.
The land's gentle contours are ideal for their horses and the property has 29 well-fenced, large paddocks with shade provided by mature trees. The paddock closest to the home is dedicated to young horses, especially those newly weaned.
Steve and Monica liked the home's rustic wooden exterior, painted black, but did extensive renovations inside to give the decor a more European appearance, furnishing it with household pieces they had brought from Argentina, where they had earlier lived for five years, to add a special touch.
"All the house has been renovated," explains Steve. "We have kept the outside as it is to keep the farmhouse look but we emptied the house, and renovated everything floor to ceiling. We kept only the structure."
The interior layout is set up a like a lodge with the family's four bedrooms, all with luxurious en suites, on one side of the house; the guest accommodation on the other side. American oak adds to the farmhouse ambience. The main living area is open-plan with an eyecatching open fireplace, a central chef's kitchen, purpose-built for entertaining. There is also an office. Outdoors, they have set up an Argentinian barbecue and outdoor fireplace for al-fresco dining on the tiled terrace.
The property also has two cottages and bunk rooms, and Steve and Monica had the driveway rerouted past the stables into the back of the house, to give the property a new look, with the lawn and paddock at the front.
"It made a huge change to the property."
But now their New Zealand dream property is on the market as Steve has a new undertaking, which means he doesn't have as much time to devote to the horse business.
"It doesn't mean we won't stay in New Zealand. We are selling because I have a new project; it's a medical business involving a new invention to detect cancer anywhere in the body. I am dedicating more time to that."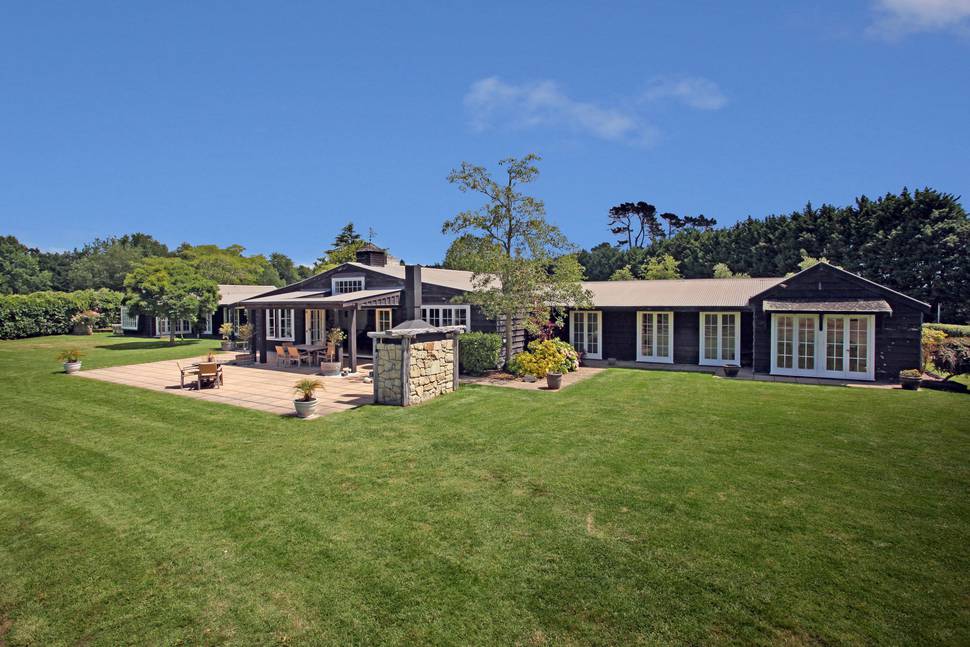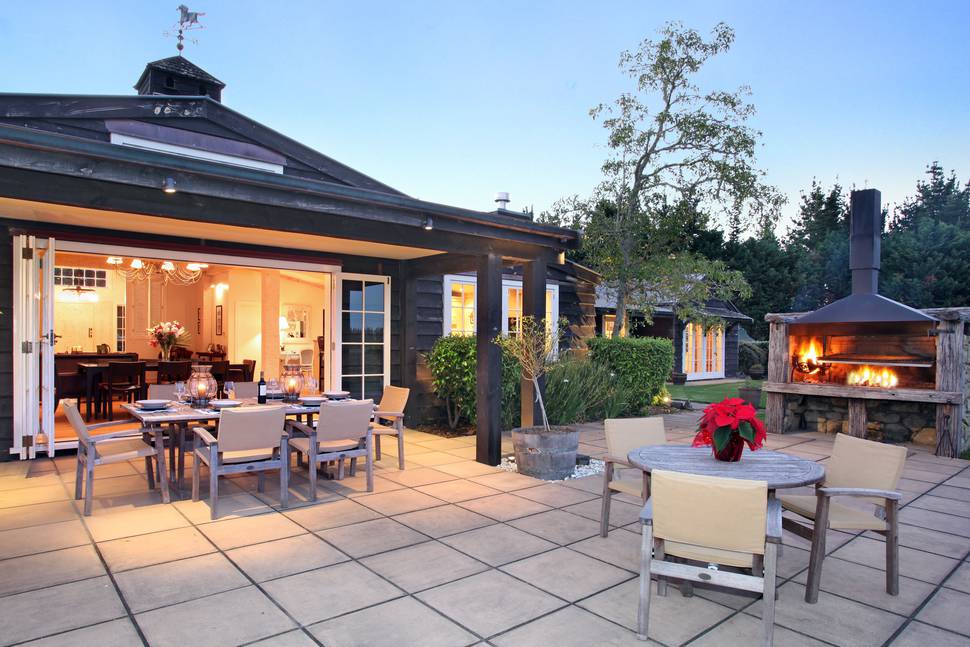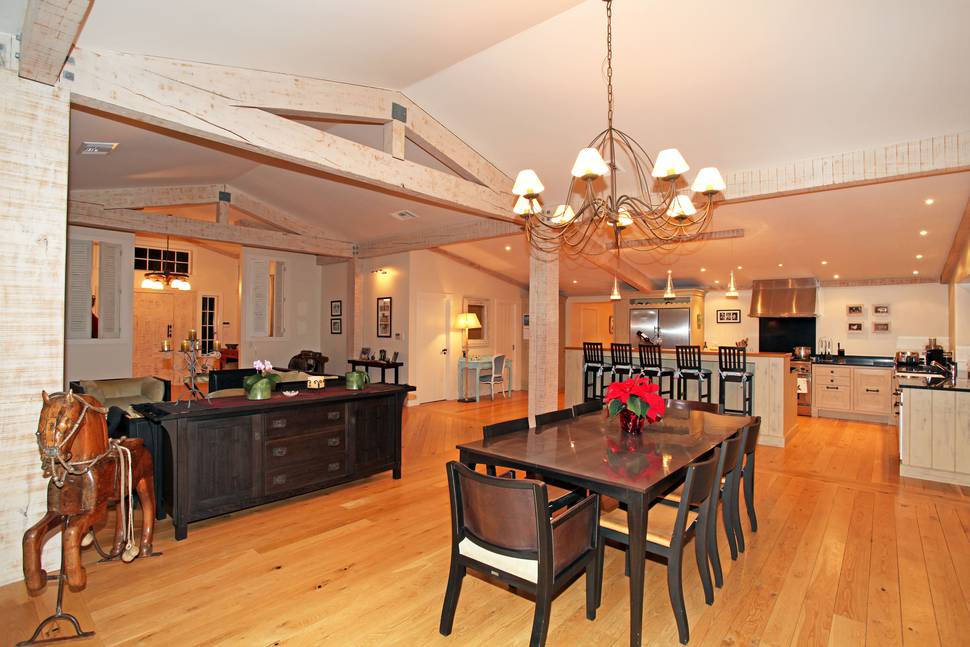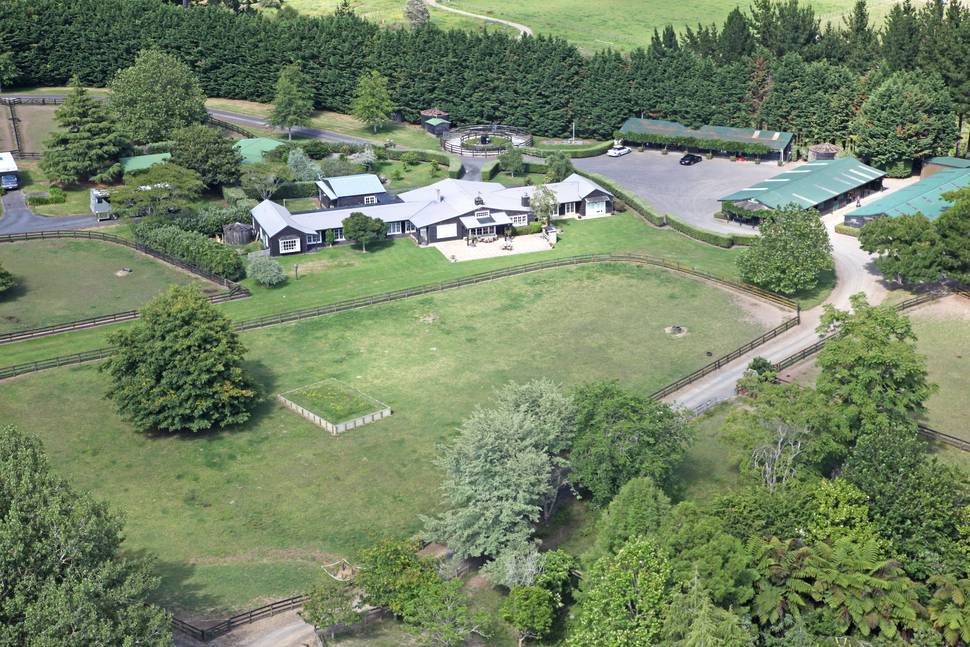 And, with two of the couple's children, Melanie and Logan, living in Boston, and Megan having just returned after travelling in Europe, the house feels a little big for mainly just Steve and Monica.
They imagine their home will appeal to a wide range of potential buyers ... someone wanting to continue the equestrian theme, either breeding or training horses, perhaps someone who wants to use it as a lodge providing accommodation, or even a family who just enjoys riding and living in the country.
Steve says they live in the country but are only 25 minutes from Auckland. "That is also a big part of the appeal. We are in a rural area but we have a super big city next to us."