23 CASTOR BAY RD, CASTOR BAY
SIZE:
Land 888sq m, house 240sq m (approx).
PRICE INDICATION:
CV $1.52 million. Auction December 3, 6pm, on site.
INSPECT:
Phone for open home times or by appointment.
SCHOOL ZONES:
Campbells Bay Primary, Murrays Bay Intermediate, Westlake Girls' and Westlake Boys'.
CONTACT:
Nadja Court, Barfoot & Thompson, ph 021 777 690.
FEATURES:
*with plans for double garage. With total privacy, this home is a treasure. A soaring, light-filled entrance, multiple living spaces which embrace contemporary living, a gourmet entertainer's kitchen and sea, city and coastal views.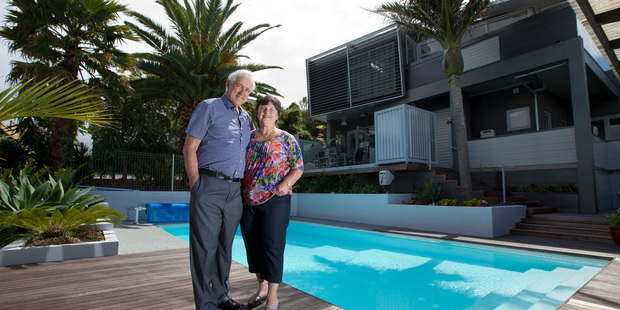 Farmers Keith and Diane Billington were looking for space and privacy in the city when they sold their Hamilton farm and followed their grandchildren to Auckland.
They found just what they were looking for in Castor Bay - although there was a small snag to overcome first.
When they walked into the modernised two-storey house many of the walls were painted black.
Diane explains an artist lived here before them and the black set off her paintings. Keith thought the dark colour sucked the light out of what was really an airy house with tonnes of tall windows, so he took a little convincing.
The problem was soon solved with fresh white paint and now the house has a light, spacious feel throughout.
Space was an important factor for the couple who had sold their 120ha Puketaha farm, which had 360-degree views of their rural landscape.
They had four items on their wish list - a dedicated drive, plenty of parking, a great view and privacy. Keith says the agent told them they would have to compromise on something but they found this property, which ticked all four.
Though this was once an older home, it has been architecturally redesigned and renovated and looks shiny and new.
The entranceway is floor-to-ceiling glass and sets the tone, flooding the stairway with light. That, and the high ceilings, gives a sense that there is plenty of elbow room, says Keith.
To the left of the entrance is a room they call the snug, where the grandchildren's toys are put but which could easily be turned into a fourth bedroom.
To the right is a dining room and next to it an entertainer's kitchen, which has an induction hob and pop-up extractor fan, Bosch appliances and a rubbish compactor.
Past the big composite stone island bench is another dining area that leads to a deck overlooking a deep pool, a pergola and comfy seating.
Next to this is the spa pool where Keith often starts his day. "I'll get in there and think about it."
Diane has a small vegetable patch here, with spinach and parsley growing like crazy.
The stairs inside lead up into a large open lounge where the all-important view reveals itself. Up here is also the large master bedroom with big walk-in wardrobe and en suite.
On the deck Keith says: "You go from Rangitoto to Lake Pupuke, the city, then right round to the Waitakeres. And, I'll tell you, the view is even better at night."
Diane says when they moved in, this upstairs area was just a big open space - even the bathroom had no doors, so they put in frosted glass panels and a clear glass wall separating the bedroom from the lounge so you can lie in bed and look out, or pull the blind down when you have guests.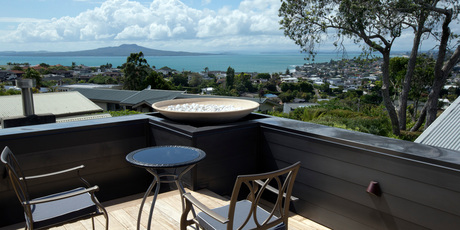 "I'll tell you what I like," she says. "It's lying in bed in the morning and watching the clouds, and you can tell which way the wind's blowing because when you're up here in bed you're just looking at the sky."
They have also put in a quirky enclosed cupboard which has a sink, kettle and a dishwasher so no one has to carry dirty dishes down the stairs.
Diane also loves that the house is low maintenance. When she and Keith travelled last year they just locked the doors, set the alarm and walked away.
The pair are not really leaving by choice but Keith has some health issues and they have decided to downsize.