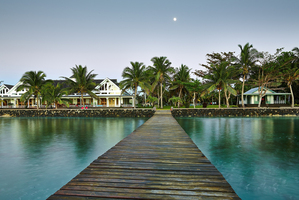 With the end-of-year holiday season now in the air, two paradisal Pacific island beachfront properties are being marketed as tourism resort sites or private retreats for the wealthy in Bayleys' final Total Property and Waterfront magazines for 2013.
The largest is a 60.7ha estate at Navodo Bay, Fiji, on the eastern side of Vanua Levu, opposite the island of Taveuni. "This stunning, absolute waterfront property fringes an entire bay, with pristine beaches on both sides of its centrepiece - a magnificent colonial homestead," says Philip Toogood, executive director of Bayleys Real Estate (Fiji), who is marketing it with colleague Dick Kirk.
"It also contains five hand-crafted quintessential Fijian beachfront bures nestled among the palms, a beautiful, serene chapel, a caretaker's home and staff dormitory."
Toogood says the private estate was "a labour of love" by its American owner and took a decade to complete. "Traditional Fijian artisans were consulted to ensure the execution of the owner's dream was authentic and Architects Pacific translated the vision to reality."
The property has its own jetty, jutting out into the crystal-clear waters of the bay, a 500,000-litre water tank and a utilities building which houses its own battery banks for power supply from wind and solar generation. It is for sale with an asking price of about $24 million. "As a private retreat it would be one of the best Bayleys Fiji has ever had the privilege to market," says Toogood.
"It could either be retained as such or it could be opened up by a new owner as a remarkable, secluded and very special holiday destination."
Toogood is also marketing a beachfront resort complex in Vanuatu that has consistently earned high Trip Advisor ratings from travellers.
Tamanu On The Beach is a 25-minute drive from Port Vila and has won a Trip Advisor Certificate of Excellence Award for the past three years, placing it within the top performing 10 per cent of all businesses worldwide on its websites.
The resort and spa is named after the native Tamanu trees which flourish on the property and rests in a lush 2.2ha tropical site on the edge of a long, white-sand, private beach.
It has six coral cottages for guests, each with an outdoor bathroom, just metres from the beach.
"Tamanu On The Beach is renowned for its fine dining cuisine and pavilion-styled open-air restaurant," says Toogood.
"The present Australian owners, who are about to embark on a challenging new business venture, have taken the resort to a new level over the past three years and are offering it for sale in immaculate condition.
"Winning three consecutive Trip Advisor excellence awards is a reflection of the outstanding guest experience offered at the resort."
Toogood says Tamanu On The Beach has traveller wholesaler contracts in place as far out as 2015 and currently operates very successfully as a four-star, adults-only (no children under 13) boutique resort.
"However, there is ample space on the property for future development and there would be plenty of opportunity for a new owner to build on its well-established reputation as one of Vanuatu's leading holiday retreats." The property and business is for sale at an asking price of about $3 million.
A number of South Pacific properties are being showcased in Auckland this weekend as part of a Beyond Auckland Property Expo at Bayley's Central Auckland Office at 4 Viaduct Harbour.