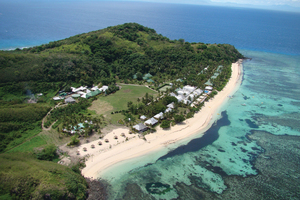 Fiji's commercial property market appears to be on the cusp of a significant turnaround with a substantial number of tourism and hospitality sales recently concluded.
"There's been an encouraging pick-up in international interest in Fiji property this year, with a noticeable increase in inquiries from New Zealand and Australia in particular," says Philip Toogood, executive director of Bayleys Real Estate (Fiji) Ltd.
"It's almost like the light has come back on again as it did in 2003 following a previous downturn in the market."
Toogood cites a sudden burst of sales in Denarau resort apartments as a good example of the property comeback.
"We have sold three apartments in the Radisson Resort and two in the Sheraton Villas Resort over a two-month period at income yields approaching 10 per cent on their purchase price," he says.
The sales have involved fully furnished two-bedroom units in five-star resort complexes and include 28 days free use a year and a share in the returns of the hotel.
Prices for the 118sq m to 125sq m apartments have ranged from about $419,000-$564,000.
Notable tourism property sales in Fiji completed by Bayleys include:
• Amunuca Island Resort and Spa, Tokoriki Island: A three-to-four-star resort with 93 rooms and a capacity of 278 guests plus comprehensive resort facilities on 16.59ha of native lease land that sold for around $6.44 million as a going concern but without management and branding commitments through Toogood and Mike Bayley.An adjoining 25-lot residential subdivision was included in the sale.
• Namena Island: A 43.3ha island to the southeast of Vanua Levu comprising a boutique eco resort with six villas, lounge and dining area selling for about $1.8 million (US$1.5 million) through Dirk Kirk of Bayleys Fiji. The sale included two boats, machinery, compressors and other diving equipment. A native lease has 68 years to run and a marine reserve surrounding the island provides some of the best diving in Fiji.
• Sovi Bay, Coral Coast: 10.9ha of freehold beachfront land in two titles on the Suva to Nadi Highway sold on behalf of a mortgagee for nearly $1.7 million through Toogood and Michael Pleciak of Bayleys Auckland. The landwas formerly a proposed site for a luxury resort and residential development.
• Travellers Beach Resort, Nadi: A 22-room budget hotel, 6km from Nadi Airport, with its own private beach, restaurant and swimming pool sold as a going concern for about $1.16 million through Kirk.
Toogood says the pick-up in interest in Fiji property is due to a combination of reasons.
"The global economic outlook is slowly improving and people generally are feeling more confident about things. There's also more confidence about Fiji itself and in its future stability, as a result of the new constitution and a commitment to holding an election next year.
"From a property perspective, prices and returns are also at very attractive levels. The downward correction in values that occurred post global financial crisis makes Fijian property very affordable in an international context.
"And the returns on income-producing assets such as managed resort apartments are also at very good levels, partly because of the drop in value but also because the tourism market is recovering strongly."
Toogood says the Fiji tourism market experienced a significant rebound in 2010 and 2011 with visitor numbers jumping by almost 25 per cent from 542,000 in 2009 to 675,000 in2011.
"There was some consolidation in the market last year with numbers edging back by 2 per cent to 660,590 but the upward trend in tourism growth is expected to continue as new markets are targeted and air services are increased."
He says international buyers are also being attracted by favourable exchange rates which contribute to the affordability of Fijian property, with one US dollar, for example, buying close to two Fijian dollars.
The Fijian dollar has remained relatively stable against most currencies apart from the kiwi, against which it has depreciated from just over NZ70c in late 2011 to its current level of about 65c.
"That's helping put Fiji back on the radar for more New Zealanders," says Toogood.
In addition to increased interest from New Zealand and Australian buyers, Americans are showing renewed interest and there has been a significant lift in inquiries and sales activity from Chinese investors, particularly in the development sector.
Toogood says there is a shortage of developed waterfront property in Fiji suitable for the leisure market.
"There has been little new development since 2005 and we are now seeing a shortage of waterfront residential lots on Denarau, where the number of apartments currently for sale is also at a very low level.
"What we need to satisfy the expected fresh demand, from New Zealand and Australia particularly, is new leisure villas and apartments, new residential lots and resort developments, like Momi Bay, which is likely to be offered to the market again in the not too distant future."