83 CRUMMER RD, GREY LYNN
SIZE:
Land 405sq m, house 127sq m plus 32sqm deck.
PRICE INDICATION:
Interest is expected above $1million. Auction on Nov 26.
INSPECT:
Sat/Sun 2.30-3pm.
SCHOOL ZONES:
Grey Lynn School, Kowhai Int, Auckland Girls' Grammar, Western Springs College.
CONTACT:
Keith and Sandy Dowdle, Custom Residential, ph 021 877 905 or 360 4860.
FEATURES:
Architect-redesigned square front early 20th century villa in Res 1 heritage zone. Repiled, new roof, insulation, plumbing and wiring. Flexible internal configuration around a central hub with stainless steel/walnut kitchen on one side, bedrooms and bathroom on the other, separate dining, living opening to north- facing deck.
Keen villa enthusiasts talk about breathing new life into homes designed for past times. For graduate architect Petr Cvejn, who was once a cabinetmaker, and his partner, Stephanie Donald, a product designer, reworking their home was also about adding what he calls "breathing space".
His approach to this interior overhaul has been to eliminate all internal walls so that apart from the three bedrooms and the bathroom, the entire home is open to light, fresh air and a wealth of flexible living options.
"We wanted to open this villa up and create a sense of space so you can breathe, so that you're not walking straight into a hallway which has no use and takes up so much space anyhow," he explains.
Gone are the walls that defined the central villa hallway, with two bedrooms off each side and living at the end by a small deck. In their place, two full-height cavity sliding doors and a central hub are the moveable and fixed structures around which the dining room, the kitchen and the open living area all unfold.
One such cavity slider is beyond the front door. It enables the office/third bedroom to the right and the dining room to the left to be closed off from the other bedrooms and single bathroom along the eastern side of the house.
It's a perfect configuration, both for client meetings and for children needing to sleep when guests are arriving for dinner, Petr explains.
The other cavity slider, between the deckside main bedroom and library, gives this room flexibility as a study or office that is part of the wider living area.
Painting one side of the lounge slider grey and the other white completes the picture of a moveable wall whichever way you view it, enhanced by Petr's choice of a negative detailing instead of villa skirting boards.
"It was about reinforcing the idea of an open space," he explains. "We've obviously kept the villa style outside because we had to. Inside, we wanted it to be quite a plain space."
Beyond this villa's protected Res 1 ornate street frontage, there were several important positives to the decades-old, scruffy student rental vibe that greeted Petr and Stephanie when they bought the property five years ago.
The absence of a rear lean-to meant that the house had a 3.3m stud throughout. The original kauri floor has been sanded back and oiled for durability, and to connect with the loft-style conversion aesthetic that is especially suited to the floor's durability and link with lives long past.
In the tiled bathroom, Petr chose walnut timber for a shelf above the vanity, the same timber he chose in laminate form to add lustrous warmth and texture to the bank of kitchen cabinets in the central hub.
Its vertical lines in the timber are a deliberate contrast to the horizontal lines in stainless steel that are the drawers and bench along the kitchen's window side.
This horizontal/vertical play is further strengthened by the long view from the front dining room to the living area and the new deck with its horizontal palings.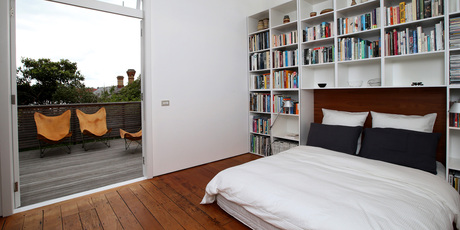 Down off the deck stairs there's a park-like garden and orchard that Petr and Stephanie have designed and planted to continue the same sense of journey and breathing space as indoors.
Citrus and pip-fruit trees flank the "hallway" en route to the lawn. The trees include a mature totara that perfectly fitted with Petr's vision of "a picnic in a park".
A lush grapevine dripping from the upper balustrade above five tubs of irrigated vegetables completes a view of a home that is as enticing from the back as it is from its streetfront.