Bush and mountain setting gives ideal backdrop for weddings, conferences and access to the great outdoors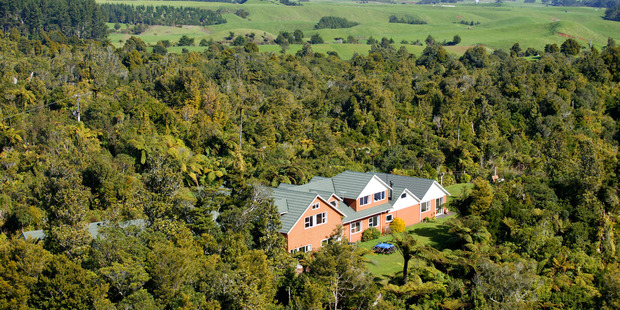 Patuha Lodge Country Retreat, one of a few commercial lodges on the foothills of Mt Taranaki (Mt Egmont) and set among 14.49ha of mostly indigenous rainforest, is being marketed for sale.
"This commercial lodge offers an investment opportunity in a tourism hot spot," says Iain Taylor of Bayleys New Plymouth who, with colleague Alan Johnson, is selling the freehold property and the going concern business by tender closing at 4pm on November 28 at the agency's New Plymouth office.
"New owners will take over several existing revenue streams, including accommodation, dining and conference facilities," Taylor says.
The 688sq m lodge is set over two levels at 575 Upper Pitone Rd in the rural Taranaki township of Okato, about 30 minutes' drive from New Plymouth. The lodge is surrounded by native bush at the end of a scenic 2km driveway near the slopes of the mountain.
The property comprises 10 spacious rooms, a self-contained unit and the owner's four-bedroom accommodation.
All the rooms have en suites and five open on to lawn and bush. Seven of the rooms are suitable for sharing.
They are equipped with wireless internet, TV, phone and hairdryer. Laundry and ironing facilities are within the accommodation wing. The rooms are centrally heated and all beds have electric blankets. Shared tea and coffee making facilities are located in the hallway and a spa bath is available for guests.
Taylor says the lodge's upstairs lounge features magnificent views over the Kaitake and Pouakai Ranges and is an ideal setting to cater for up to 70 guests. The room can also comfortably seat up to 25 people in a boardroom setting.
The licensed restaurant specialises in New Zealand cuisine and the dining area can cater for up to 30 guests.
The lodge is a popular venue for conferences, corporate seminars, company retreats, team-building workshops, training sessions, weddings, anniversaries, birthdays and other family functions.
Conference and seminar equipment includes wireless internet, whiteboards, photocopier, projector screen, television, DVD and video players and overhead projector. The lodge will rent any further equipment required by corporate groups and liaise with local florists, DJs, bands and other suppliers for family and social events.
Patuha Lodge promotes itself as having one of the best wedding venues in Taranaki: "From the wedding and reception through to the honeymoon, we have it all. The native bush setting and tranquil location is ideal for celebrating special occasions. It's an amazing venue that provides a fantastic photographic backdrop for the perfect wedding day."
Taylor says the guest lounge and dining area is warmly refurbished and is licensed, with the bar alongside an open fire, and the mezzanine floor lounge has a pool table.
Although the lodge is mostly set amid native rainforest, about a hectare of fenced paddocks is used for dry stock.
"This well presented and uniquely positioned lodge will provide its new owner with an opportunity for financial growth along with a great lifestyle here in Taranaki," Taylor says. "It is strategically located in a region predicated to attract increasing numbers of tourists.
"The Ministry of Economic Development forecast a 23 per cent rise in international visitors in the seven years leading up to 2016 with total expenditure by national and international tourists to Taranaki expected to rise by $31 million over the same period."
The lodge borders the famous Pukeiti Rhododendron Gardens and is close to Kaitake Golf Course.
"Guests can enjoy peace and privacy at the lodge and take delightful bush walks, including a 20-minute walk to Pukeiti Gardens," Taylor says. "Other attractions nearby include Taranaki beaches, known for some of the best surf in New Zealand, along Surf Highway 45 and cafes in the nearby villages of Okato and seaside Oakura."
Other local activities include surf casting, skiing, and the Tupare and Hollard Gardens, Taranaki Pioneer Village, the Tawhiti Museum in Hawera, Cape Egmont lighthouse, bird watching, art galleries, the Parihaka Pa and the annual World of Music Arts and Dance (Womad) Festival.
"This is a place that particularly appeals to visitors who are tired of staying in hotels and motels and who want something more relaxing and different with a local flavour," Taylor says.
"The lodge is just waiting for a new owner to stamp their personality on this highly regarded business and carve out a slice of the burgeoning Taranaki tourism market."