Four-level historic 1880s Craig's Building provides a rare opportunity to buy a standalone, freehold investment in city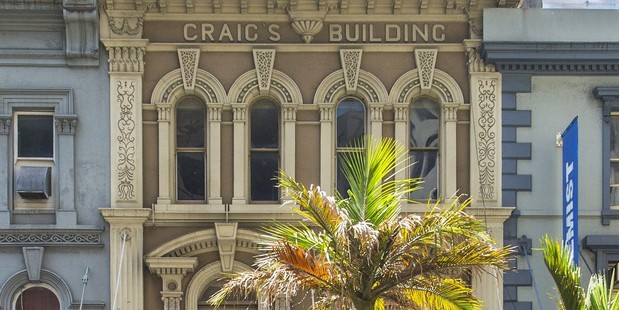 One of the few remaining freehold standalone character buildings in lower Queen St and still priced in an affordable bracket is for sale for the first time in a decade.
The four-level historic Craig's Building at 100 Queen St on Auckland city's "golden mile" is being marketed for sale by tender closing on December 11 by Henry Thompson of Ray White Commercial.
"The sale of Craig's Building comes just 10 months after the ground-floor retail tenant expanded its operations, doubling its previous size," Thompson says.
It is situated on a 228sq m site and the ground and basement levels are occupied by Pearl Sea 100, a well-established Queen St retailer. Pearl Sea 100 took over the other existing tenancy, Mag Nation, when the lease expired recently and has extensively renovated the interior space and installed a marble facade at the entrance.
The business has just exercised a five-year right of renewal and its lease now has a final expiry date of 2027 if it exercises the two further five-year rights of renewal.
The open-plan jewellery store, with a staff bathroom and a small office situated at the rear of the building, now benefits from having a large basement area, providing additional storage for the retail shop above it. The basement is divided into two separate spaces and accessible via two individual flights of stairs.
The jeweller has been in the building since 2002 and Thompson says it trades well in this location with the traditionally high foot traffic count between Vulcan Lane and Shortland St all year round.
Thompson says the property is earning net annual rent of $338,000 but with the two upper floors vacant, a new owner could increase this income substantially if prepared to complete the renovation work to make them operational.
He says plans have been drawn up by Ignite Architects to unlock the upper floors which in his opinion could make the building an ideal flagship department store for a large retail tenant. Alternatively the upper levels could be refurbished into offices.
"The beauty of this property is that, unlike the majority of the buildings in the city centre that have been strata titled, 100 Queen St is available in its entirety, giving a new owner a range of options. It is freehold and sits in an attractive price bracket as a standalone investment."
Separate access to the upper floors could be provided via a pedestrian right of way over the rear building at 5 High St.
"This existing easement in favour of 100 Queen St effectively provides 24 hour access for any future tenants to pass through the entry and foyer of 5 High Street to the rear of the Craig's Building."
The property comprises 691sq m of net lettable area made up of 136sq m of basement space; two leased tenancies occupying the 196sq m of ground floor; and 183sq m on the first floor and 174sq m on the top floor which are both vacant.
Constructed in the 1880s, the Craig's Building has retained many of its original features including timber flooring, sash windows, wooden wall panelling and extensive natural light.
It is one of the oldest surviving buildings in central Auckland and its facade still has the original detailing not commonly found on other surviving CBD properties, making it a relatively well-preserved example of a surviving commercial building designed by the noted early Auckland architectural practice of Keals and Son, according to the NZ Historic Places Trust.
Originally built to house the St Mungo Cafe, reputed to be Auckland's elite dining establishment, the property was renamed the Craig's Building in 1917 when J.J. Craig one of Auckland's biggest industrial conglomerates with interests in cement, mining and quarrying, took out a lease over the entire property.
Craig's was eventually integrated into Winstone Ltd, which housed its marketing division within the upper office floors until 1979. The two office levels have remained unchanged and there is an ornate flight of timber stairs connecting the two floors.
"The Craig's Building presents 8.2 metres of prime retail frontage on to Queen St along a stretch of road that has one of the country's most sought-after commercial and retail addresses," Thompson says. "It is surrounded by a mix of major national and international flagship stores and banks."