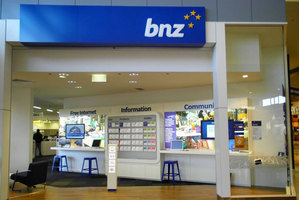 BNZ is to offer a low interest rate credit card to its home loan customers in the latest bid by a bank to win mortgage market share.
BNZ's credit card rate will be set at the bank's variable home loan rate - currently 5.99 per cent - and is only available to BNZ mortgage holders with more than 20 per cent equity.
BNZ retail director Andy Symons said the low rate card was designed to reward customers who banked with the BNZ.
"What we are saying is if you have your home lending and credit card with us we believe we can do a better deal.
Typically banks justify charging higher rates for credit cards because the debt is unsecured.
Symons said the credit card would not be secured over the borrower's property but the bank felt confident in taking on the risk because it would know the full financial position of the borrower.
Symons admitted the bank would take a smaller cut on the lower interest rate but said he hoped that would be more than made up for by attracting more customers and gaining long term loyalty.
The credit card rate will be set at the bank's variable rate meaning it can go up and down over time.
Bank interest rates are expected to go up next year with the official cash rate expected to rise.
Banks have been throwing all sorts of incentives at the public to get them to switch in recent years including TVs, iPads, vouchers and cash.
Symons said unlike the technology incentives which would be out of date in a year, the BNZ's offer would last for the lifetime of the home loan.
"We are not just doing it to grab market share - it's about having long term relationships with our customers."
BNZ's classic credit card has an interest charge of 19.95 per cent per annum for purchases.