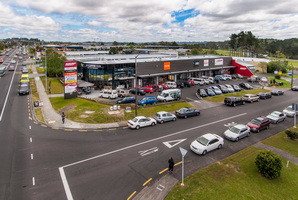 Colliers International launched its fifth and final New Zealand Portfolio magazine for the year yesterday containing a wide range of office, industrial and retail properties for sale from Auckland to Queenstown.
A highlight property in the new portfolio comprises five newly redeveloped and tenanted retail units on a prime North Shore corner that will be offered for sale by auction.
The strata-titled investment properties at 32 Constellation Drive are being marketed by Andrew Hiskens, Euan Stratton and Deborah Dowling and will go under the hammer individually at 11am on December 3 in Collier's auction room at 151 Queen St, Auckland.
The units are located on a main arterial route linking the State Highway 1 motorway with the North Shore's eastern suburbs.
Seven separate tenants all have new lease terms of between six and 10 years, with further rights of renewal and guaranteed rental growth built in.
The tenants include national brandnames such as The Coffee Club, Mexicali Fresh, Tank Juice, Snap Fitness and Bruce Lee Sushi.
Hiskens says the units constitute a new convenience retail centre that has just opened after the redevelopment of an existing light industrial building on the high-profile site.
"Constellation Drive has undergone a boom in the past couple of years with many properties being converted from industrial to retail and office use and vacancy rates falling as a result of increased demand," he says.
"Occupiers and developers have been keen to take advantage of the large volumes of passing traffic between the Upper Harbour Highway, the nearby Constellation Drive motorway on- and off-ramps, and the Mairangi Bay and East Coast Bays residential area - about 25,000 vehicles daily, according to Auckland Transport."
Dowling says that with the annual net rentals on the units ranging from $49,380 to $154,348, they sit within a popular price bracket for individual investors.
"We expect individual investors, as well as those looking to establish a foothold in the retail property market or perhaps diversify out of the residential market, to be particularly interested in buying one or more of these properties," she says.
"Retail properties have remained popular with investors even during the market downturn, owing to their easily understood fundamentals and the market is now showing solid improvement, especially in prime locations."
John Bowring, Colliers International's national auction manager, says that with all the tenants on long-term leases with guaranteed growth, the units present sound investments for people looking to add commercial property to their portfolios.
"It's difficult to find modern, high-quality commercial properties with long leases in a proven location like this within such an affordable price range," Bowring says.
"For the first-time investor in commercial property, these units tick all the boxes and constitute easy-to-manage, hassle-free investments.
"They would be ideal for people seeking to diversify into commercial property with income-generating holdings which require a minimal capital outlay."
The centre features a single oblong-shaped building, refurbished to a high quality level and up to the latest building standards, with 30 off-street car parks in front.
Stratton says an appropriate mix of tenants is a priority for theowners.
"The combination of retailers and services the community will require into the future has been carefully considered, with the result being a convenient and well-located mix of food, cafe and fitness providers."
The Coffee Club occupies the prominent corner unit with its 47th store nationwide.
The 24/7 gym Snap Fitness, which is part of a large franchise with more than 1400 facilities worldwide, joins other national chains Mexicali Fresh, Tank Juice Bar and Bruce Lee Sushi in the development along with Xtreme Nutrition & Training and a bakery.
"The centre is positioned to serve a large, well-established and affluent residential catchment," Stratton says.
"Given its location which is ideally placed to capture commuters returning home from Auckland City, it looks set to receive good patronage into the future."
He says the units were taken up by the occupiers while refurbishment was still under way.
'The fact that all the units were taken up so quickly shows this area and its large population base are attractive to convenience retailers."
The property's Constellation Drive location provides easy access to the State Highway 1 motorway to the west and the East Coast Bays residential area to the east.
Occupiers along Constellation Drive and adjoining roads include Caltex, Mobil, Z Service Station, Nosh, Gilmours, Farro Fresh, Wendy's, McDonald's, Burger King, the Homezone Centre and Candida Office Park.
Hiskens says the area has experienced considerable growth over recent years.
"Much of the expansion is due to Mairangi Bay being close to the Northern Motorway, as well as growing congestion on the Auckland Harbour Bridge which has given rise to a demand for more service, industrial and employment opportunities on the North Shore."