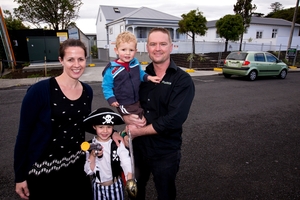 It will be like the United Nations on The Block come Christmas time when the new owners of the houses made famous on the TV3 renovation series move in.
Three of the neighbours are immigrants - from China, England and Wales - and the fourth is a Kiwi who lives and works overseas.
Angela Shen and her husband Jun Ye, from Shanghai, bought the winning home, done up by Aucklanders Alice and Caleb Pearson, for $1.126 million.
The buyers had asked Mrs Shen's sister to look for a home on their behalf before they moved to New Zealand.
Welsh couple Sean and Samantha Roberts bought the house renovated by Auckland couple Alisa Keall-Grant and Koan Vette, which fetched the next highest price, $1.014 million.
The Roberts, who have lived in New Zealand for 18 months, have two sons at Takapuna Grammar School, across the road from their new home.
Anne and Adam McGregor, from Kent in southeast England, bought 1E Eversleigh Rd - renovated by Rangitikei brothers Pete and Andy Walker - for $952,500.
The couple have two sons, Cayd, 5, who attends the nearby Hauraki School, and Toby, 2. They moved to Auckland about eight years ago and had been renting until now.
The couple were big fans of The Block and Mrs McGregor said she fell in love with Pete and Andy's home because of the "family feel", the big gardens and the fact that it was away from the main road.
So she returned with her husband to look at the property about four more times through Bayleys, which was marketing the four homes.
The couple had decided Mrs McGregor, who works in marketing for Sovereign insurance, would do the bidding.
"When I came into work the next day, all my work colleagues gave me a cheer. It was so funny.
"We didn't tell a lot of people we were going because you build something up and it doesn't happen and you look silly. So we kept it really quiet in case we don't get it ... So people were ringing and texting us saying, 'I've just seen you on telly'."
She hoped to invite the Walker brothers for a housewarming when they move in next month.
The woman who bought Nelson couple Loz and Tom Heaphy's place for $947,000 travels the world, working on a superyacht.
It is understood she has yet to decide whether she will rent out the home while she is overseas.
Mrs McGregor met her on the night.
"Maybe we can help her look after it or something," she said.