Plan kitchen workflow to suit needs, writes Robyn Welsh.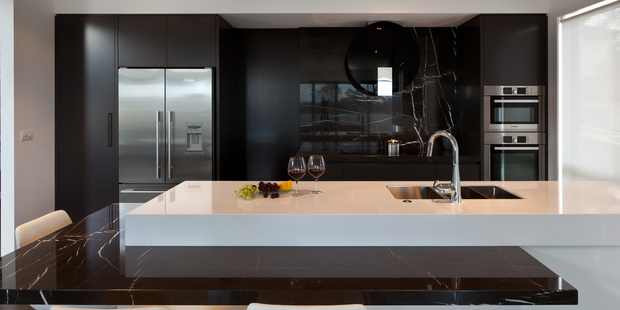 In days gone by, when our expectations - and our choice of kitchen appliances - were much simpler, it was the power of one that defined how we worked the space in our kitchens. One kitchen, one stove, one fridge, one sink and one person made up the scene in a typical kitchen in which family meals were put together at each day's end.
A lucky cook would have worked in a kitchen designed along the principles of the "work triangle" - a concept that defined the pathway between the fridge, the sink and the stove for maximum efficiency. It worked for kitchens of all shapes, doing away with the frustration of having every appliance along one wall and back-tracking to complete the simplest of tasks.
This "work triangle" concept dates back to the US in the 1940s. By the 50s it was in common enough use for researchers to confirm that the best kitchens were indeed those created along the principle.
Fast-forward to today's larger family homes and we're expecting much more from our open-plan kitchens, scullery preparation/storage areas, wall ovens, steam ovens, microwave ovens, fridges, fridge/freezers and our other lifestyle appliances.
We expect to serve drinks, make coffee, plate up snacks, prepare meals, bake by the dozen and entertain the family and friends at the buzz of the doorbell. All of this is likely happening in and around others in the kitchen, too.
That one "work triangle" of old suddenly doesn't work any more. These days, a kitchen design is likely to feature multiple triangles as the designer shapes the client's lifestyle vision into the context laid out in the architect's concept drawings.
"People will have read and heard about the 'work triangle' but not really understood that it's about efficiency," says Linda Christensen, of Kitchens By Design. "The more kitchens have become more entertainment areas, the more people are in a kitchen than ever before and there may be three or four triangles at work there."
Her view is that kitchens can become less efficient as they've become larger. "People need to think about everything they do in the kitchen and how many functions they want to go on there to make the most efficient use of space."
Whether you want your tea, milk, sugar, cups, teapot and kettle together as one work station or you need easy access to your microwave, steam oven, main oven and hob for those grand culinary productions, it's about understanding how you work in your own kitchen.
Getting those pathways mapped out correctly avoids accidents, frayed tempers and wasted energy in the interests of a happily functioning kitchen.
Christensen says: "In any kitchen function always comes before form. Out of the thousands of choices there may only be one right one for you."