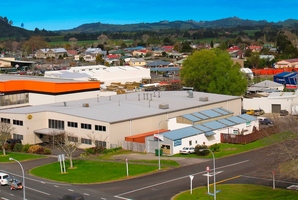 A property housing a world-class, state-of-the-art electronics assembly plant on State Highway 2 at the entrance to Waihi township and tenanted by an industry leader has been placed on the market for sale.
Brendon and Lynn Bradley of Bayleys Tauranga are marketing the 58 Seddon Ave and 9 and 9A Baber St property by way of tenders closing on November 28 unless they're sold prior by private treaty.
Brendon Bradley said the building was constructed in 2008 for Purvis Industries, an electronics assembly firm which has been producing electronic components since the 1990s.
"The business was subsequently sold in June 2013 and a new lease entered into with the owners of the property." Bayleys website says the property is leased to "international tenant Hella-New Zealand".
The property comprises a large, modern, industrial premises incorporating two-level front offices and amenities areas that adjoin a large, clear-span production space and assembly plant.
The small southern Coromandel town is noted for its gold-mining legacy but has a lesser-known long history of electronics-based production.
Waihi was home to Akrad, which produced radios in the 1930s, later becoming Pye, producing radios and TVs, before being taken over by electronics giant Philips, which closed its plant in the mid-1980s.
Bradley says the sale represents an outstanding opportunity for a commercial investment with an established international tenant, immaculate presentation, forward-thinking design and a well-structured lease.
"It has a new five-year lease in place from June 2013 and one further five-year right of renewal with an initial net rental of $453,000 that has built-in annual rental growth being adjusted to the Consumer Price Index for capital growth.
"Small syndicates, family trusts or high net-worth individual investors prepared to look beyond city limits will be stunned to find such an opportunity in provincial New Zealand."
The 6193sq m site zoned light industrial is held in three titles on the western fringe of Waihi's commercial centre with frontage and light vehicular access from Seddon Ave - which is a section of State Highway 2 - and heavy vehicle access off Baber and Kenny Streets.
The main structure comprises a large modern industrial building with two levels of office of 2029.51sq m and a 745.17sq m mezzanine area. The rear building is 451.93sq m.
The front offices in the main building are accessed by double-glazed doors which open to a reception area and foyer. Beyond are a board room, lunch room, and storage areas. There are multiple workrooms with mezzanine floor above, a production office plus other offices, a large open plan factory area, inwards store and loading bay.
To the rear of the site is a low-stud industrial building utilised as a workshop and for storage.
Specialised equipment and fit-out for the property includes 2000 Lux lighting in the factory; a UPS system for emergency lighting; a climate control system within the factory to control humidity and temperature; under floor heating, antistatic vinyl flooring and air-conditioned offices.
The property is security fenced at the boundaries. There is a landscaped and sealed parking area to the front of the main building and a staff outdoor area with lawn and shrubs is adjacent to the lunch room.
"The current owner of the property considers that although the building has been purpose-built for electronics manufacture, the design characteristics would be accommodating of a range of alternative uses and could also be adapted to suit several smaller tenancies if required in the future," says Lynn Bradley.
Surrounding development in the vicinity includes a modern Mitre 10 store, Beds R Us, a Mobil Service Station, KFC and a New World supermarket along with light industrial and commercial property together with residential housing.
"This an outstanding opportunity to purchase a commercial investment that is impressive in every sense of the word with an established international tenant, immaculate presentation and annual rental growth being adjusted to CPI," Bradley says.
"This must appeal to savvy investors who are looking for quality provincial property."