Highfield Estate is a fixture on local tourist route and sells wine in 18 countries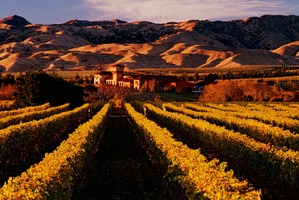 The Highfield Estate winery with is distinctive Tuscan-inspired tower and attractively set in Marlborough's Wairau Valley is being marketed for sale after the death of leading shareholder Tom Tenuwera, a Sri Lankan-born English businessman.
Located on an elevated site 14.7km from Blenheim on the corner of Dogpoint Rd and Brookby Rd on the southern side of the Wairau Valley, the vineyard is part of the local wine trail and is easily accessible by bicycle and car.
"All Highfield Estate's assets have been placed on the market," says Tim Crawford, Bayleys Marlborough's vineyard, winery and lifestyle sales specialist, who is marketing the property and business for sale by expressions of interest closing on November 29.
"The winery's products are well-known and respected," Crawford says. "These include an operating winery, restaurant, tasting and function room and an apartment; 82ha of vineyards producing 1000 tonnes a year; award-winning wine brands with distribution in 18 countries and wine stocks; three hectares of wetlands and two cottages.
"The property and business offers potential purchasers a range of revenue streams - encompassing wine production, a restaurant, a tasting room and a wedding and function venue which have spectacular views over vineyards and mountains. These are particularly well patronised during the summer months.
"Highfield Estate's classic Marlborough wines are created with a commitment to consistency of quality and style. The winery has a small, focused range of wines: Elstree cuvee brut, pinot noir, chardonnay, sauvignon blanc and riesling."
In 1993, the first Elstree won a gold medal at the National Wine Show of Australia. More gold medals and awards followed in the ensuing years for the Elstree, pinot noir, chardonnay and sauvignon blanc wines.
Crawford says wine writer Bob Campbell has described Highfield's Elstree cuvee brut as "impressive with a Champagne-like finesse and power".
The winery was opened in 1990 and Tenuwera bought it a year later with Japanese businessman and close friend Shin Yokoi. Under their ownership, the wine operation and restaurant were modernised and expanded.
Highfield Estate winery is biogro-certified for organic production and has an annual processing capacity of 600 tonnes.
Cuvee, chardonnay, sauvignon blanc, riesling and pinot noir are processed on site. The winery houses everything needed to produce the different wine styles, from fruit collection through to bottling, providing full control over every aspect of the winemaking.
Up to 100 tonnes of white grapes a day can be taken into the winery and the bottling line comfortably caters for bottling runs of 10,000 litres a day. The underground barrel room maintains a cool temperature throughout the year, providing the perfect storage conditions for pinot noir and barrel fermented chardonnay.
Resource consent allows for up to 2134cu m a day for irrigating 97ha of grapes, with consent renewal not due until 2017.
Included in the property are a three-bedroom home, two-bedroom cottage plus sleep-out, three-bay shed and a converted ostrich-handling facility of 570sq m.
Further up the Wairau Valley is the larger vineyard with 80ha of sauvignon blanc, planted between 2006 and 2008.