A large and wide-open industrial building in a thriving area has potential for a wide range of uses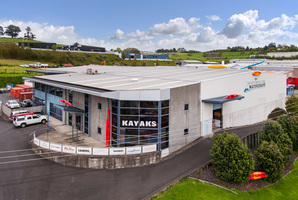 A prominent industrial building leased by a kayak manufacturer in fast-growing Silverdale, north of Auckland near Orewa, is on the market for sale or lease for the first time since its construction in 2001.
The freehold property at 23-25 Forge Rd, Silverdale, Rodney, is being marketed by Brad Visser and Shoneet Chand of Colliers International by deadline private treaty closing on November 21 unless it is sold or leased before that date.
"With the current tenant, Johnson Outdoors Watercraft Ltd, vacating in April next year, the property offers an excellent opportunity for an owner-occupier or developer to acquire a well-known, large industrial facility in Silverdale," Visser says.
"This building is one of the largest in Silverdale and one of the only big industrial facilities available in the area at the moment.
"It is a well-known and recognised building that offers a great profile and a number of options to its new owner."
Chand says the size of the modern facility and its functional layout make it suitable for a wide range of uses.
"The warehouse provides high stud, clear span industrial accommodation that will suit businesses operating in a sectors from storage and logistics to manufacturing and distribution or even trade-based retailers."
Visser says vacant land on the property and on the neighbouring lot, which is also for sale, offer further options.
"A developer could look at various add-value options, such as building on the large yard area, or dividing the existing building into smaller tenancies.
"The next-door property, which contains 3796sq m of land, is also being sold by the same vendor so a buyer could acquire the two properties totalling over one hectare of land.
"With the vendor expecting a result before Christmas, this is a great opportunity for buyers and tenants to secure a substantial property holding in this fast-growing location."
Chand says the 3168sq m building on site covers only 44 per cent of the freehold site, and has a straightforward layout and very low office ratio. "It offers what the great majority of industrial occupiers are looking for - a large flexible space that is not 'over-officed' with a yard and container drop areas."
A large canopy area, gantry crane and extensive car parking are provided and the property also has an alarm system and computer cabling throughout.
"This is one of the finest industrial facilities in Silverdale and has served the current occupier very well for the past 12 years," Chand says.
"The property is in the Silverdale Industrial Estate, 30 minutes' drive from the Auckland central business district and 15 minutes from the Albany industrial and commercial basin.
"This location has excellent motorway access and is a new, although already well-proven, business estate with occupiers including New Zealand Glass, Bunnings, Atlas Concrete and Placemakers in the immediate vicinity.
"With a decreasing supply of land in the nearby Albany industrial estates, tenants and owner-occupiers are looking to Silverdale and the nearby proposed business areas as an economic alternative," Chand says.
Visser says Silverdale is undergoing a major population expansion which has resulted in many other national and international retailers being attracted to the area.
These include Pak'nSave, The Warehouse and a Countdown supermarket.
The Millwater housing development in Silverdale has about 3500 sections, being sold in stages.