APT 19, 143 QUAY ST, AUCKLAND CITY
SIZE:
268sqm (approx), plus decks 335sqm.
PRICE INDICATION:
Similar apartments have sold for around $3 million. Tenders close 4pm, December 5.
INSPECT:
Phone for viewing times.
CONTACT:
Andrea and Duncan Ritchie, Bayleys, ph 375 7410 or 021 906 793 (Andrea) or 375 8427 or 021 400 811 (Duncan).
FEATURES:
Luxury north-facing apartment at the end of Princes Wharf with 270-degree harbour views. Two living rooms, office and ample storage.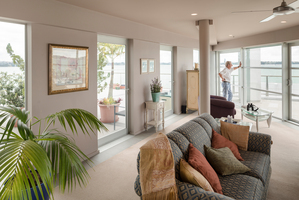 Keen yachtie Roger Scherer gave up sailing a few years back because, as he puts it, his "bones weren't getting any younger".
But he hasn't really missed it because his home is the next best thing to being on a boat. Located at the end of Princes Wharf in the prestigious Shed 24 building, the apartment has clear views of the harbour and a prow-shaped main living area that feels as if you are heading to sea on a luxury liner.
"It's not a bad substitute for a boat," says Roger. "It feels like you are a part of what's going on out on the water and I can wave at my yachtie mates from my armchair."
The apartment has the seal of approval from renowned yachting boss Bruno Trouble, who stayed in it for three months during a Louis Vuitton series. "He loved living here," says Roger.
It's easy to see why. The apartment is spacious, stylish and thoughtfully designed, and the location is unparalleled.
The 270-degree views include Wynyard Quarter, Auckland Harbour Bridge, the North Shore and, on a good day, Coromandel Peninsula in the distance. Despite being just a few minutes' stroll to great restaurants, shops and nightspots as well as the city's busy downtown area, it is surprisingly peaceful because it is at the very end of the wharf.
It was the location that initially attracted Roger and his late partner, Jan Hancock, when they bought the apartment 12 years ago, but they also liked that it was an empty shell. They worked out how they wanted to divide the space then enlisted architect friend John Sinclair to make it a reality.
From the spacious entry lobby double doors open to the stunning triangular living room that looks out on the water.
Equally breathtaking are the two decks either side of the apartment's north-facing "prow". At 335sq m, that much outdoor living space in the central city is a bonus.
"We once had 300 people here for an America's Cup event, and there was still plenty of room for more."
At the other end of the living and dining space is a gourmet kitchen designed by Jan. With marble bench tops, a double oven and plenty of cupboard space, it has a north-facing island so the cook can enjoy the outlook.
On the west side of the central living area is an office, fitted out with shelving Roger had made in Indonesia from certified mahogany.
"It can be hard to get a lot of work done - the view is a bit distracting."
The office leads to the master bedroom, which has a walk-through wardrobe, large en suite and its own deck.
Roger uses the second lounge as a TV room. A hall off the lobby leads to a powder room, laundry, bathroom and two bedrooms. Both bedrooms have doors to the deck and wooden shutters like the master bedroom.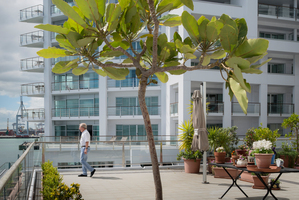 The apartment stays cool in summer via ceiling fans and lots of French doors that make the most of the sea breezes.
"It is warm as toast in winter," says Roger.
"I don't have any heating on, apart from a small heater for a couple of weeks in July or August."
It has been a most enjoyable home to live in, says Roger, but now it's "completely over the top" for one person, so he is downsizing.