Petrol pumps well-placed to catch commuter traffic in rapidly growing areas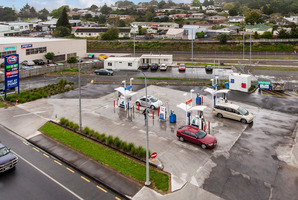 Two new Gull drive-through service stations being built on main Auckland arterial routes will go under the hammer next month, along with an established service station on Waiheke Island which is being offered for sale by negotiation.
"Both the unmanned stations have new 10-year leases to Gull New Zealand with four five-year rights of renewal," says Dave Palmer of Barfoot & Thompson Commercial, who is marketing the properties for auction on Thursday, November 14, with colleague Cam Paterson.
"There are not many freehold properties around like these in good locations offering future development, low maintenance requirements, solid incomes with visibility, and easy access off busy arterial routes."
The Kumeu property at 63 Main Rd, is on a 1341sq m site on the commuter homeward bound side of the main road "which is the preferred option for convenience shopping".
The property is also accessible from a neighbouring retail centre comprising fruit and vegetable shop, butchery and liquor outlet.
Paterson says Kumeu is only a five-minute drive from Westgate City at the end of the north-western motorway, which will eventually have 56ha of commercial and residential development creating 10,000 new jobs, 5000 new homes and a $6 million town square.
"The population of Kumeu has increased by 13.4 per cent since 1996 while the population of New Zealand increased by 3.3 per cent in the same period," Paterson says.
"The nearby development of a New World supermarket and other convenience retail underlines the growth of this area.
"The surrounding suburbs have been identified in the council's proposed Unitary Plan and by the Government for substantial residential growth and development."
Paterson cites a Transit New Zealand report saying nearly 20,000 vehicles pass the property daily - mainly driven by commuters who work in the city and have chosen rural or semi-rural lifestyles for their families.
"The site is also strategically located on the way out of town for weekend traffic heading for the west coast beaches, local vineyards and boutique breweries," he says.
"Main Rd in Kumeu is also State Highway 16, which connects to Helensville and Wellsford.
"The route is especially popular with north-bound traffic on long weekends and public holidays when the main highway is often overloaded, and this extends the demand from passing trade from five to seven days."
The other new Gull drive-through station being sold occupies a 1343sq m site at 302 Great South Rd, Takanini, with frontage on to Great South Rd and Tironui Rd between the Takanini and the Papakura town centre.
Palmer says the property has easy access for the 22,000 cars that pass each day. It is a corner site with dual access from Tironui Rd.
"Like the Kumeu station, this one is on the eastern side of Great South Road on the way home side for city commuters. It is also in a rapidly developing area with the surrounding district growing at almost 15 times the overall New Zealand population growth rate."
Immediate neighbours include Counties Toyota, a new Pak'nSave and Steely Blue Cafe. Developments under construction include a Bunnings store, The Warehouse and an up-and-running Carl's Jr outlet.
"There is also substantial residential development under way in this area which promises to underpin the future of this location," Palmer says.
Paterson says both properties are subject to leases to Gull New Zealand Ltd, an independently owned oil company founded in 1998 with 54 retail outlets from Whangarei to Masterton, including 11 drive-through facilities like the two being auctioned.
The company is a wholly owned subsidiary of Ausfuel Gull which has 200 retail outlets.
After the issuing of final certification, expected in early December this year, the initial rental of both service stations will be set to market with rent reviews based on two-yearly Consumer Price Index increases.
"This gives a purchaser long-term stability and inbuilt growth" says Paterson. "Gull is also responsible for all other costs including maintenance and monitoring. A further benefit of the occupancy arrangement is that, if Gull chooses not to renew the lease at the end of the initial term and the landlord wishes to remove the tanks, Gull must pay the landlord $50,000."
Paterson says other options for both properties could include fast food, convenience retail or light industrial uses.
Palmer says the completed properties will have new technology designed to eliminate any concerns. about pollution.
"The holding tanks are a double skin fibreglass tank that has been in use for over 25 years in the US with more than 300,000 of them now in operation. The Envirotanks come with a 30-year warranty and have an expected life span of 100 years."
Palmer says the sites are to be sold separately.
"They represent passive property investment at its best," he says.
On Waiheke Island, at 2 Albert Crescent, Ostend, another service station is being offered for sale with a long lease and a "better than a 7 per cent return".
"Our instruction is to market this property at a saleable price and bring this keen seller a deal," says Paul Vermaak of Barfoot & Thompson's South Auckland Commercial branch who is selling it by negotiation for an asking price of $1,195,000 plus GST.
The petrol Alley (GAS) service station encompasses a forecourt, shop, office and amenities along with a mechanical workshop, a tyre workshop and yard. The building areas total about 328sq m.
The 956sq m freehold property with a retail zoning has a single lease until May 2027 to Ostend Motors 2007 Limited with rental reviews from time to time.
The station is accessed by customers from Albert Cres and Ladd Rd at the rear and is earning rental income of $84,000 a year plus GST with all outgoings paid by the tenant.
The lease terminates in May 2027 if all three five-year rights of renewal are realised and the next rent review is in 2015.
"This is one of only three service stations on Waiheke Island and is in Ostend about 6km from the ferry terminal," Vermaak says.
"It mainly services the central and eastern part of the island with fuel, servicing, tyres, mechanical repairs and trailer hire. Long queues of vehicles and boats that often wait to refuel are a testament to the value of its location."
Waiheke Island has a permanent population of 8000 people of whom about 2000 commute by ferry to work in Auckland every day.
In summer, the island hosts more than 40,000 visitors.