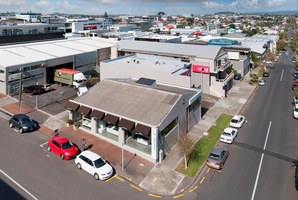 Three Grey Lynn commercial properties at 18 Maidstone St and 6 & 8 Crummer Rd that have been acquired by one owner over the past 20 years are being offered for sale as a total holding or individual properties.
The properties are across the road from the huge 1.3ha Vinegar Lane supermarket, retail, commercial, apartment and parking development between Pollen St, Williamson Ave and Crummer Rd.
"The impressive Vinegar Lane development is going to add some real excitement to this location," says Murray Tomlinson, commercial and industrial agent with Barfoot & Thompson Commercial.
He is marketing the three sites for sale by tender closing at 4pm on Thursday, November 2, with colleague Reese Barragar. "This is a property that should be considered by developers, owner occupiers, long-term investors or investors looking to speculate on the continuing strength of the mixed-use zoning," says Tomlinson.
"All tenders will be considered whether they are for a single property, two of the properties or the three as one lot."
Structures on the three sites comprise typical commercial, showroom, retail and warehouse buildings with associated offices and amenities.
Tomlinson says 18 Maidstone St and 8 Crummer Rd appear to be of a more modern style of construction, largely comprised of concrete, concrete block or panel, iron and panel-board facade and iron roof.
"The oldest, 6 Crummer Rd, has been reimaged and refurbished significantly in the last decade but the original aspects of construction are still apparent including concrete floor, block walls, timber purlins and Supersix roof."
The total land area of the three freehold properties is 2456sq m, made up of 18 Maidstone St at 1774sq m, 6 Crummer Rd at 354sq m and 8 Crummer Rd at 328sq m.
"Each individual property is regular in shape and overall, as one lot, the site would be best described as a rectangular corner site with one corner missing. Both 6 and 8 Crummer Rd are regular rectangles and together as one lot could almost form a square site with sides about 26 metres long."
The tenancies of 18 Maidstone St generate $282,000 per annum plus GST and are made up of mixed terms with a final commitment up to June 2018. The property at 6 Crummer Rd earns $50,826 per annum net plus GST from a lease that has a final expiry of October 2014. At present 8 Crummer Rd is vacant.
Barragar says the buildings are at the centre of the traditional Grey Lynn service and light industrial area.
"However, over the years the area has crossed over to have more of a commercial and retail aspect and, in the last decade, an ever-increasing residential component.
"The site itself is very close to the Ponsonby Rd, Karangahape Rd and Great North Rd intersection. This end of Great North Rd is a premium car sales location while adjacent boundary properties are a mixture of residential, commercial office, showroom and industrial service users."
Barragar says the properties have good access to the motorway via the Newton Rd and "Spaghetti Junction" entrances about 1km away.
Under the proposed Unitary Plan notified on September 30, all three properties retain mixed-use zoning.
The property is zoned mixed-use within the Auckland City District Plan Isthmus Section which allows for "the development of vibrant urban areas by enabling a diverse and compatible mix of residential, business, educational and leisure activities close to existing town centres".
Permitted activities include offices, healthcare facilities and retail premises.
Development controls in the mixed-use zone allow a maximum height of 15m and a basic floor area ratio of two to one, with a maximum floor area ratio of four to one.