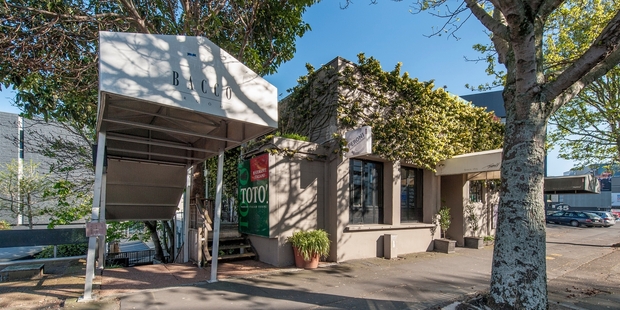 A building containing the popular Italian restaurant Toto' is among a portfolio of 15 properties featured in Barfoot & Thompson's 40-page INSITE magazine.
"This portfolio is our third and final for this year and provides a wide variety of property opportunities with 10 properties to be auctioned, four for sale by tender and one property being sold by dead line private treaty," says Peter Churchill, sales manager for the agency's City Commercial office.
"The properties are spread throughout Auckland, from Kumeu to the west, Browns Bay to the north, Papakura south, and including properties in Whangarei, Waiheke Island and even Palmerston North.
"The portfolio was put together by our team of 70-plus agents on the back of a highly successful year and contains petrol stations, development sites, industrial properties, mortgagee sales and change of use opportunities with investment and leasing opportunities."
A freehold building at 51-53 Nelson St, Auckland city, is leased to Toto' restaurant at an annual rental of $130,000 with the lease expiring in 2018.
"A valuer has estimated the potential annual lease return at $184,000 plus operating expenses plus GST but this is yet to be agreed to by the tenant," says commercial and industrial agent Marie-Anne Molloy, who is marketing the property for sale by auction at 10.30am on November 14, at Barfoot & Thompson's auction rooms at 34 Shortland St, unless it sells beforehand by negotiation.
The building has a total area of 1432sq m over three levels. It was built in 1930 and refurbished in 1993.
The ground-floor area fronting Nelson St is generally open plan.
The mid-level of the building is accessed by an internal concrete stairway on the northern wall.
"It has also been refurbished to a high standard of finish, subdivided into a small office, two large entertainment areas with two bars and two sets of men's and ladies' toilet rooms," Molloy says.
A further set of internal concrete stairs on the northern side gives access to a large basement area which is in its original state, subdivided into a large central area and containing men's and women's toilets, a "fairly redundant" kitchen, coolroom, storage rooms and a lean-to area on the southern side with a paved brick floor.
The building is in the Victoria Quarter precinct on the western side of Nelson St, bounded by Victoria St to the north and Wellesley St to the south.
"The area is in transition with new office buildings having been constructed, and with the planned Sky City convention centre and TVNZ nearby," Molloy says.
"Under the new Auckland City Council's draft unitary plan, the land is zoned City Centre and the height limit has been increased from 35m to 40m.
"Given its largely historic use as an industrial area and low four-level building form, the Victoria Quarter has significant potential for rapid growth and redevelopment."
A second prominent property - at 235 Parnell Rd, with vacant possession - will be offered at the same auction on November 14 It was formerly occupied by an ANZ Bank.
"We understand it was purpose-built for the ANZ Bank and that explains its better-than-average specification," says Molloy, who is marketing it with colleague Wayne Muir.
"The construction is of permanent materials of reinforced concrete blockwork and floors."
Muir says the property has good protected growth prospects considering the limited supply of investment properties in the face of constant demand - particularly for Parnell Rd frontage.
The building, on a 483sq m freehold site has a ground floor area of 185sq m, a first-floor area of 202sq m, and a veranda area of 27sq m.
"It is zoned Business Activity 2 under the Auckland City Council operative Scheme which is intended to provide for retail, office and commercial service activity at a medium-intensity level, recognising the importance of the main retail frontage and maintenance of the pedestrian amenity," Muir says.
"While the zoning and the location do offer redevelopment opportunities, the design and configuration of the building offer good rental earning capacity for an investor and would also appeal to owner-occupiers."
A third freehold property to go under the hammer on November 14 comprises three retail tenancies at 572 Te Atatu Rd on the Te Atatu Peninsula. "These shops sit at the northern end of the commercial/retail area of the Te Atatu Peninsula retail precinct and generate a net rental of $62,802 per annum plus GST and operating expenses," says Barfoot & Thompson Commercial agent David Palmer.
"This precinct is tightly held, and occupied by a mix of local retailers and national brand tenants.
"Near neighbours to the three retail outlets include Westpac Bank and Hammer Hardware.
"Te Atatu Rd is the single four-lane arterial route bisecting the length of the peninsula and has a measured traffic count of 30,000 vehicles a day with access to the Northwestern Motorway.
"Te Atatu Peninsula has been identified as an important growth area with an outstanding living environment close to Auckland CBD 10km away and mostly ringed by coastline and parks."
The property comprises a rectangular level site of 1012sq m with a frontage to Te Atatu Rd of 17m and low site coverage. The building faces east and has a floor area of 195sq m, leaving 817sq m undeveloped at the rear of the site.
Construction is generally brick with a corrugated-iron roof.
The site is zoned Community Environment under the Waitakere district plan, which provides for Town Centre zoning and allows retail, commercial and residential use.
Unit A is occupied by the restaurant Thai Flavour on a lease that expires in 2022 if all rights of renewal are exercised.
Peninsula Roast leases Unit B with a final expiry in 2029 and Fruit & Vege rents Unit C with a final expiry in 2035 if all rights of renewal are taken up.
A fourth property that will be offered at the November 14 auction comprises four retail outlets at 17 Fair Mall in Otara, occupied by four tenants.
The freehold and Business 2 zone property has a lettable area of 425sq m and occupies a land area of 478sq m.
It generates net annual rental of $125,740 plus GST from the shops and a two-bedroom upstairs flat.
New Life Nutrition occupies Shops 1 and 2 with the final lease expiry in 2019 if all rights of renewal are exercised.
Young Lunchbar's lease of Shop 3 finally expires in 2024. The lease for a dairy occupying Shop 4, as well as the flat, also has a final expiry in 2024 and Pacific Clothings' lease of Shop 5 ends in 2022 if all rights of renewal are exercised. "Although the tenancies appear short to medium term, tenants of Shop 3 and Shop 4 have occupied the premises for over 20 years and the tenant in Shop 5 has been there for 15 years," says commercial sales and leasing agent Agnes Teh.
Three shops have a frontage to the northern part of Fair Mall and the combined Shops 1 and 2 have a frontage to the western portion of Fair Mall. All the premises have access to a service lane at the rear.
"The residential accommodation is above Shop 5 with access from the interior of Shop 4. "It forms part of that tenancy of Shop 4 but hasn't been occupied for several years," Teh says.
The property was built in the late 1960s of standard construction, comprising reinforced concrete floor slab and aluminium joinery. Most of the roof is corrugated-iron.