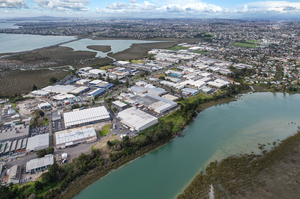 Auckland commercial property investors are the most positive in the country - for the first time since December 2011 - about the coming year, a national survey has found.
Colliers International's third quarter survey shows optimism levels in Auckland reaching a positive 56 per cent, the highest in New Zealand and the highest confidence level for Auckland since the survey began in March 2006.
The city's investors are now more positive than those in Christchurch, who until now held the lead for two years.
Alan McMahon, national director of research and consulting at Colliers International, says: "Expectations of economic growth in Auckland continue to outpace the rest of the country, and business and consumer confidence are up. Population growth forecasts are boosting the construction industry and various major transport infrastructure projects are getting under way.
"Along with the general uplift in investors' mood that we often see in the spring surveys, the fact that the survey was conducted when it looked like there was a real chance of Auckland hosting the next America's Cup defence may also have contributed to the big jump in Auckland investor optimism."
Two other upper North Island cities - Hamilton and Tauranga/Mt Maunganui - are among the country's most confident this quarter.
Matt Snelgrove, valuation director for Colliers in Hamilton, says an uplift in activity in the local commercial property market is a sign of confidence among businesses in the city. "Some significant construction activity has been happening in Hamilton, most notably two major office buildings - the PwC Centre on Ward St and Anglesea St and the Riverside building on Grantham St.
"Both of these buildings have secured major tenants, indicating confidence in the city among large occupiers.
"There has also been an increase in office refurbishment activity, which is the result of a tightening supply of A to C-grade accommodation in the CBD."
Hamilton's retail and industrial sectors are also displaying positive signs of increased activity, including Kiwi Income Property Trust's $40 million redevelopment of the Centre Place mall and the opening of Farmers' new store in the centre.
"More industrial land is changing hands and there are good signs of increasing investment in the city across all property sectors, including residential, where we are seeing strengthening appetite for development land. Roading initiatives such as the Waikato expressway project are also helping boost the positive mood in the city," Snelgrove says.
Christchurch, in second place at 51 per cent positive, has been the country's most optimistic centre for the past two years, says McMahon.
"The mood in Christchurch has been upbeat about the future for some time now, which is not surprising given the lows the city has been through since the earthquakes.
"However we have been expecting this optimism to moderate somewhat, as plans for the rebuild become more established and some sort of normality is eventually restored.
The average result for New Zealand as a whole this quarter was a positive 25 per cent, which is slightly down from 26 per cent last quarter. This means more respondents think things will get better instead of worse for commercial property investors over the next year by a margin of 25 per cent."
The most negative city, Palmerston North, was 14 per cent pessimistic (-14 per cent) this quarter, while Wellington investor confidence fell to -10 per cent.
"Wellington investor confidence is still being negatively influenced by earthquake strengthening concerns and uncertainty around public sector cuts," McMahon says.
The big spread between the most and least confident cities reflects the vastly different expectations of economic growth in various centres, he says.
"People's expectations of upcoming property market conditions are based on expected future demand for property.
"So it only makes sense that in cities where positive macroeconomic factors create the expectation of increased demand for property, people are optimistic. And the reverse also applies in centres where economic and business growth is still some way off."
Colliers' survey was based on information from 3651 respondents.