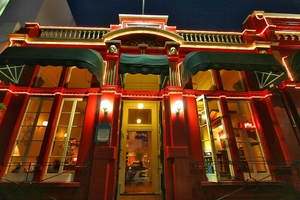 After the untimely death of celebrated chef Andre Teissonniere earlier this year, the home of one of New Zealand's first authentic regional European restaurants, Andre's L'Escargot, is now for sale.
The distinctive heritage-listed building at 41-43 Brougham St in central New Plymouth housed the award-winning French restaurant for more than 35 years.
A French national, Teissonniere established Andre's L'Escargot in 1976 as the first genuinely ethnic restaurant in the region. It was originally built on the hill in Devon St, but six years later was relocated to the present site at 41 Brougham St in a busy pedestrian area near the central business district.
In 1992, he bought the adjacent building at 43 Brougham St and extended the restaurant to its current size. The property remains in two titles.
After Teissonniere's death in June at the age of 64, the business was closed, and the land and buildings are being marketed for sale by Bayleys New Plymouth salespeople Alan Johnston and Iain Taylor.
The land and buildings along with its fittings are for sale by auction on October 25.
Taylor says the property is well-suited to an existing owner-operator in the hospitality sector. "However, it is being sold with vacant possession so there is also an opportunity for a new owner to explore a different use for the property," Taylor says.
"Inquiries to date have been from people in the restaurant industry attracted by its existing use as a restaurant and by the fact that the kitchen equipment, tables, chairs and its unique fit-out form part of the sale."
Johnston says the restaurant seats up to 100 people within an interior that projects a theme of casual elegance and French flair. Housed in Victorian buildings with fluted columns, lion heads, ornate wood doors and decorative iron work, 41-43 Brougham St are listed as heritage buildings and with the New Zealand Historic Places Trust.
The main entrance is at 41 Brougham St, which has a total floor area of 174sq m made up of 124sq m at street level and 50sq m on the first floor.
The adjoining building at 43 Brougham St is 104sq m, with a deck at the rear. It was refurbished in 1992 and provides additional restaurant space and service access.
Taylor says the two buildings occupy 19 metres of street frontage in a busy pedestrian area. Neighbouring properties include retail shops, an ANZ bank, and a hotel.
"This distinctive property is one of provincial New Zealand's stand-out establishments that celebrated fine dining with a French attitude," he says.
"The success of Andre's L'Escargot can been measured by the restaurant's longevity and the number of awards it won during its time in operation, reflecting the high quality of food and service the restaurant provided its customers," Johnston says.
The awards included Best Restaurant for Taranaki and Taranaki-Wanganui, Hallmark of Excellence NZ Beef and Lamb Awards, Best Food Outlet, "Pick of the Province", and TVNZ Corban's Taste New Zealand award.
Andre's son, Jean Philippe Teissonniere, says the creation of the authentic French restaurant and serving his customers, many of whom became friends, were his father's life.
"Dad loved food. He would always have the best himself and would dine out a lot, so food was the foundation for the business and his passion was to deliver fine cuisine to the public.
"It was his vision. He influenced a lot of people in the region, I think by setting the standards - not only for dining out but for the hospitality industry in general."
What's on offer?
The property: Former restaurant building.
Address: 41-43 Brougham St, New Plymouth.
Sales method: By auction on October 25.
Agency: Bayleys New Plymouth.
Features
* Home of renowned French restaurant.
* Housed in ornate Victorian building.
* Fixtures and fit-out included in the offer.
* Existing use as a restaurant and for food service.