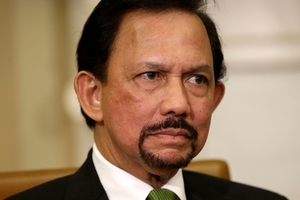 The world's second-richest royal might soon sell his empty Auckland office block. The billionaire Sultan of Brunei owns the largely vacant BNZ Centre at 125 Queen St.
But the building might become apartments if real estate agent Graham Wall succeeds with a deal he has been working on since last year.
"It's miles away. We're at the very beginning of starting that discussion," Mr Wall said.
PM John Key met the sultan last week at the East Asia Summit. The sultan once owned a group of Herne Bay houses and showed considerable interest in New Zealand, buying the big Queen St property. But he put the houses up for sale and is understood to have been keen to sell the BNZ block for some years.
That has turned out to be harder to move on.
Mr Wall wants to sell it to ex-Bayleys agent Robert Holden's Conrad Properties, developer of many new Hobson St and Nelson St apartment blocks.
The sultan's tower emptied out when Brookfield Multiplex lured anchor tenant the BNZ across the road to the Deloitte Centre at 80 Queen St.
Mr Wall said a new owner might consider turning the office floors into about 220 apartments.
"Apart from the New World Metro, the building is virtually empty."
A variation to the building's resource consent would be needed for the large-scale conversion but Mr Wall hoped Auckland Council would agree to this readily because its policies tried to encourage a lively CBD.
"A change like this would encourage more people to live in the CBD," Mr Wall said.