497A HIBISCUS COAST HIGHWAY, OREWA
SIZE:
Land 1529sq m, house 430sq m.
PRICE INDICATION:
CV $1.5 million.
INSPECT:
Saturday and Sunday, 1pm-1.45pm.
SCHOOL ZONES:
Orewa College, Orewa North School.
CONTACT:
Jenni Finlayson, Bayleys, ph 021 506 920 or Lynette Thomas, ph 021 758 680.
FEATURES:
Fully renovated sunny property on the cliffs overlooking Orewa and Hatfields beaches, with spectacular views. Family living on two floors, with games room, generous garage, heated pool and spa. Bonus one-bedroom self- contained flat, with its own entrance, for granny or teenagers.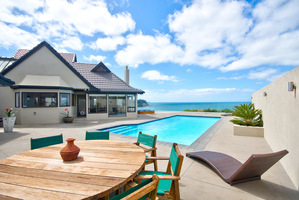 When Debbie and Steve Levert spotted this property on the clifftop between Orewa and Hatfields beaches their first thought was that they would bowl the tired 1980s house and capitalise on the jaw-dropping views with a new build.
But then it grew on them. Debbie had taken a break between jobs to meticulously paint the rambling house. As she did, she realised that beneath the salmon pink and teal blue, there was a very solidly built house, far too good to demolish. With nicely proportioned lines, the generous eaves of the tile roof and fibre-cement finish, the house needed only a generous new entrance deck and a better kitchen plan. A good redecorate and it would be perfect for their family.
Well, that is, perfect once they'd re-arranged the entrance to create a welcoming facade.
The house is tucked down a long, private drive, protected from road noise.
With a houseful of teenagers, the Leverts' master-stroke was to install a swimming pool - and a spa for evening soaks watching the sunset.
Glass balustrades ensured none of the splendid view was lost.
They also extended the double garage to create an enticing games room off the terrace, complete with a bathroom for the pool and a lined bedroom loft for visitors. They also squeezed in plenty of storage, but not quite enough. With their air-conditioning business growing, they are off to the country to find a house with barns and workshops big enough to hold all their units, equipment and vehicles.
The family room and kitchen were replaced at the end of 2012 with a more user-friendly layout and a bar for friends and family to gather. The white cabinets and dark granite benches in the bar are in crisp contrast to the warm merbau (a kwila-type hardwood) floors.
Naturally, given the family business, there are four heat pumps in the house and efficient heating for the spa and pool. There is also a fireplace.
The huge living room - all picture windows to take in the views north and south - is supplemented by a lower level bedroom/rumpus room which their now-grown son has commandeered. Another bedroom by the entrance has been turned into an office, but shares a bathroom with the final double bedroom on this floor.
Up the carefully restored staircase (Debbie remembers every turn of every banister that she stripped and repainted) is the master suite. More gorgeous views, plenty of storage and a freshly updated bathroom make this a space you'd never want to leave.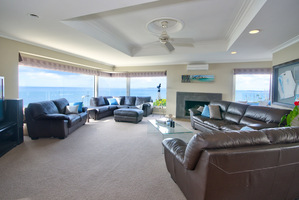 The couple struck lucky with this house when they realised that the lowest floor, with its own entrance, was a self-contained flat, with smart kitchen, bathroom/laundry and a good size living space. It has been easy to keep let, Debbie says, but could suit older children or grandparents, as it also has its own decks and more of those views west over Hatfields Beach.
Now that Orewa is bypassed by the motorway, the town has a new lease on life, with its main road more pedestrian-friendly, its streets once more quiet and suburban. Outside of rush-hour you can be in Albany or even the city in less than half an hour. With easy access to the growing service centre of Silverdale, this northern beach town is now an easy commutable suburb.
New owners will count themselves lucky to sit above two of the best northern beaches and soak up those views, satisfied the hard work has been done for them.