14 PICKENS CRES, MT ALBERT
SIZE:
Land 2307sq m, house 320sq m.
PRICE INDICATION:
CV $1.9 million.
INSPECT:
Sat/Sun 2-2.30pm.
SCHOOL ZONES:
Mt Albert Grammar, Kowhai Intermediate, Owairaka District Primary.
CONTACT:
John Wills, Custom Residential, ph 021 333 053.
FEATURES:
*(plus off-street parking) Classic mid-20th century modern William Chick-designed house on the edge of Mount Albert domain with stunning views across Auckland. Informal and formal living, an enclosed swimming pool, renovated to a very high standard.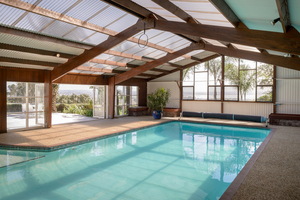 It is rare that you visit a home where the owner has lavish praise for the work of a previous owner. Most people insist they've put their own stamp on a place. However, visual artist Lee Parker has only praise for the sensitive renovation of a classic William Chick 1950s modernist house that her family bought on the slopes of Mount Albert six years ago.
A friend - "an open-home fanatic" - had seen the house first and knew immediately that Lee would want this and no other. From its charming Chick entrance of classic board and batten, planters and copper trim, to its generous spread of living spaces, this is certainly a house that you don't want to leave.
"Chick designed the house for the McGreals [office furniture] family and it ran across this property and the lower one. When the previous owners did the major renovation, they were very respectful of the house. They even ensured height covenants when they subdivided off the lower section so that the views could never be built out," says Lee.
It helped that the original house - built in the sprawling U-shape of the popular Californian ranch style - was beautifully laid out and proportioned, with deep eaves, floor-to-ceiling windows nicely bisected to create a rhythm and enormous sliding glass doors.
Designer Veryan Del Moro, of Italy and Kitchens, plus the architect, ensured that the modern kitchen, complete with the obligatory island, fitted the scale of the old rooms. It sits in the middle of the U, perfect for entertaining, with a huge Ilve stove plus a second oven and masses of well-planned storage.
With the large dining room opening to an outdoor covered dining porch, you feel only the smooth stretch of lawn, palm trees and neatly clipped hedges stop you reaching out to touch the city below. To the western side is a generous formal living room, with a modernised fireplace and sit-upon concrete hearth, and breathtaking views over the city to the west and Waitakeres.
Lee, who is returning with her family to the United States to take up an arts residency at Carnegie Mellon University, says that view can be enjoyed from all over the house. Even her master shower and loo look over the ranges and Manukau Harbour. Both children's rooms have that same western aspect - only their family bathroom and a fourth bedroom, used as a media/kids' space, face away from the view.
On the northern side are more family rooms - the original office now opens to the kitchen-dining hub, with a nifty fixture that raises and lowers the TV into a cabinet, much-fancied by the kids.
Carry on from this room to an unexpected bonus: a completely self-contained space with another family room, wet bar and bathroom.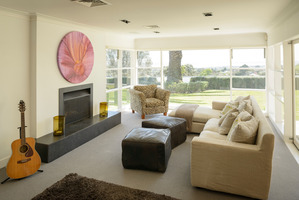 The house keeps to its rambling ranch origins with a great room holding the swimming pool. Lee was told that in order to make space for the pool, volcanic rock had to be dynamited out. With its wall of sliding windows, deck to capture more of those views, and also a pot-belly wood stove and wine room, this is the perfect answer to Auckland's fickle summer (and winter) weather. It would have been one heck of a party space and Lee admits her kids, now 12 and 15, were not happy at leaving this just when it would have become party-capital for them and their friends.
She loves how the house opens up completely in summer and is sheltered from the worst of the wind by Mt Albert.
But an exciting new chapter in her work and studies calls and the children are already settled into Pittsburgh schools, so this 1950s dream house is ready for its next owners.