60, 62 & 62A LADIES MILE, REMUERA
SIZE:
Combined land approx 2433sq m, combined dwellings approx 500sq m.
PRICE INDICATION:
Low- to mid-$3 million.
AUCTION:
October 16 (unless sold prior).
INSPECT:
Sat/Sun 1pm-2pm.
SCHOOL ZONES:
Remuera School, Remuera Intermediate, Michael Park School.
CONTACT:
Stanley Armon and Kaycee Nicholas, Barfoot & Thompson Remuera, ph 021 723 177 (Stanley) or 022 058 8600 (Kaycee).
FEATURES:
Three titles sold together containing lawned building site, original renovated bungalow with pool and nine-year-old adjoining dwelling designed with versatility as a home or work space.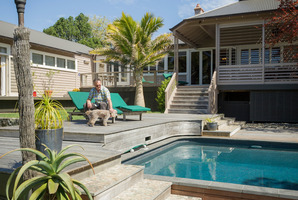 This big cache of Remuera land presents a triple opportunity, thanks to a handsome bungalow which charmed a couple into a change of plans back in the 80s.
Dean Martick and his wife Donna bought here 16 years ago intending to use the land for a development. Back then, the three properties of 60, 62 and 62A Ladies Mile were combined in one 2433sq m title bearing a single, handsome circa-1920 Californian bungalow.
Their purchase was very much driven by securing the prime land, although Dean recalls noting how appealing the bungalow was.
"We used to walk past it when we lived nearby and it was the sort of place you looked in at and were really curious about."
Their plans changed. "As time went on we sort of fell in love with this place and I didn't want to develop it." Dean and Donna ended up living happily in the bungalow, which they share with their elderly "girls", chocolate poodle Jazz and ginger cat Tickets.
They've developed its indoor-outdoor living, garaging and rear subtropical grounds.
They also added a second dwelling adjoining the original home, primarily to house Dean's building company.
Now they've installed thorough drainage and subdivided the spread into three adjoining properties, the trio are up for auction to be purchased together, rather than individually.
New owners may want all three for development purposes. Or they may choose to on-sell one or more properties, helped by the fact they all already have driveway access.
The first property behind the solid front rock wall is Number 60, a 661sq m lawned expanse offering a prime building site.
Number 62 has grounds of 1111sq m bearing the original high-stud bungalow.
Number 62A comprises 661sq m of land bearing the more modern dwelling designed to offer future versatility as a home or work-space. (The two adjoining dwellings are separated by a fire-wall).
The big bungalow with shingled timber exterior accents has many character elements including splendid entrance leadlights and polished timber floors. Its foyer leads to a family lounge with a gas fire in an impressive character surround.
The lounge transitions to a long open-plan kitchen-dining room opening to big rear decks and an outdoor room. An additional side formal living room boasts another fireplace and a bay window.
Three bedrooms, including a spacious master with contemporary en suite, are supported by an office (with bedroom potential), family bathroom and separate laundry.
"We're big fans of indoor-outdoor living," says Dean, who reckons the often-used outdoor room with adjustable Louvretec sides and roof is probably their favourite spot. It sits beside an in-ground heated swimming pool, lawns and sub-tropical plants.
Dean's helpful mum, Joan, who is in her 80s, lives elsewhere but tends the garden and even mows the lawn during her frequent visits.
Dean says excavating under the bungalow to create double garaging and a utilitity room was a major exercise but worthwhile.
The second dwelling adjoining the bungalow was built about nine years ago
It could suit a work-from-home set-up, extended family or rental. Dean "future-proofed" it, making most internal walls non-load-bearing for easy alteration and future versatility.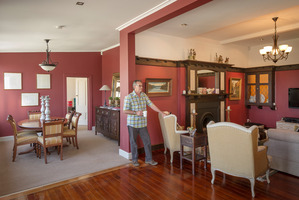 The upper portion of its roof has open trusses enabling storage and there is further development potential under its existing roofline.
It has its own entrance and internal-access double garage. A reception (with powder room), a meeting-training room, with kitchen and an office, could also be two living areas and this building's second bedroom.
The end cottage, in which a friend lives, has a lounge-kitchen and an en suite master bedroom opening to its own covered deck, plus a laundry with a toilet.
Dean and Donna also own a Waiheke holiday home and they feel now is the right time in their lives to sell up their city spread.
This couple wants to "chill out a bit and relax some more".