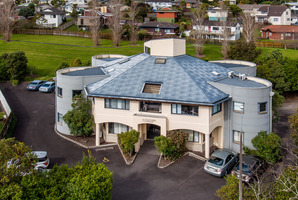 A standalone office building in the popular Mairangi Bay business area of Auckland's North Shore is for sale.
The vacant property at 4 Whetu Place is being marketed by John Davies and Nick Recordon of Colliers International and will be auctioned at 11am on October 16 at 151 Queen St, Auckland, unless sold beforehand.
Davies says the sale of the Business 9-zoned property represents an excellent opportunity for an owner-occupier to secure premises just off Constellation Drive in the tightly-held Mairangi Bay retail and commercial zone.
"Constellation Drive has undergone a boom in the past couple of years, with many properties being converted from industrial to retail and office use and vacancy rates falling as a result of increased demand," he says.
"Occupiers and developers have been keen to take advantage of the large volumes of passing traffic between the Upper Harbour Highway, the nearby Constellation Drive motorway on and off-ramps and the Mairangi Bay residential area."
Occupiers along Constellation Drive and adjoining roads include Caltex, Nosh, Wendy's, McDonald's, Cory's Electrical, HomeZone Centre, Burger King, Farro Fresh, Gilmours, Z Fuel and Candida Office Park.
Recordon says the area's high traffic flows and closeness to the East Coast Bays residential areas mean the property is well suited to service industries.
"We have already fielded inquiries from owner-occupiers in the childcare, church and community sectors, who see the potential in this property, based on its location between the motorway and large residential catchments," he says.
"This convenient position means it would also suit medical and training use, or it could even be converted to short-term accommodation, provided the relevant consents were applied for and granted."
The two-level, 750sq m building sits on a 1471sq m freehold site and comprises a variety of office areas and associated amenities.
Both floors feature a central board room, with further separate office areas and a larger open-plan office area on the first floor. There are kitchen facilities and bathrooms on both floors, and 23 on-site car parks.
Davies says estimated market rental has been assessed at more than $150,000 a year if the property was occupied by a tenant or tenants.
"This 1990s building has been well-maintained internally and externally, providing well-presented accommodation, and also features landscaped grounds with a council reserve directly adjacent providing further green space for staff breaks," he says.
The property is just off the intersection between Constellation Drive and Apollo Drive next to a Caltex service station, with access to SH1 motorway to the west and East Coast Bays residential area to the east.
Recordon says the local area has experienced considerable growth over recent years. "Much of this growth is because Mairangi Bay is close to the northern motorway, as well as the growing congestion on the Auckland Harbour Bridge which has given rise to further demand for more service industrial and employment opportunities being created on the North Shore."
He says Constellation Drive is a major arterial route, carrying tens of thousands of vehicles daily. "It forms one edge of the popular wider Mairangi Bay commercial precinct, which is bounded by Rosedale Rd to the north, Apollo Drive to the east, Constellation Drive to the south and William Pickering Drive to the west.
"This is a relatively new though well-established business locality which enjoys strong demand from investors and tenants, and has experienced very low vacancy levels."
colliers co nz/22017