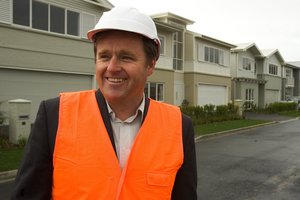 Auckland's housing supply shortage will continue because the new Unitary Plan has not gone far enough, one expert says.
Patrick Fontein is a bankrupt developer who provides services to property consultancy and development management business Studio D4 and is a member of the Property Council's Auckland executive committee which examined intensification issues.
Last week, he addressed an industry group at Construkt Architects on intensification and the former Green Building Council chairman predicted Auckland's severe housing undersupply to worsen.
Fontein, formerly of Kensington Properties and the original developer behind Orewa's new housing estate Kensington Park, initially predicted there would be a shortfall of 100,000 dwellings within Auckland's rural urban boundary in the next 30 years. But he told the Construkt gathering the city would be short of 150,000 places in that time.
Affordability will be a growing problem because the influx of people to Auckland won't stop, he said.
His talk was on Auckland in the next 30 years and he asked if it would be a quality compact city or one blighted by urban sprawl.
Auckland Council engaged Studio D4 and architects Jasmax to review the development capacity of urban Auckland in 2011.
Under insolvency law, Fontein is restricted and cannot be a company director.
He is due to be discharged from bankruptcy in March.