Firm consolidates its Wormald and ADT Security businesses under one roof on 1ha site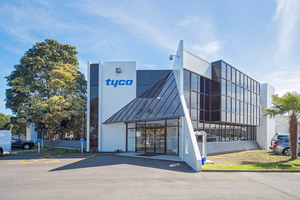 Tyco NZ has moved its New Zealand fire and commercial security businesses to a large office and warehouse facility in Onehunga, recently vacated by pharmaceutical company Roche, which has relocated to Newmarket.
Ben Herlihy of Colliers International, who negotiated the deal with colleague Tony Allsop, says the firm has taken a 10-year lease over the property on nearly 1ha of prime land at 8 Henderson Place, just off Church St, in the central Auckland industrial area.
Tyco has moved 150 staff from its Wormald and ADT Security commercial business divisions to Onehunga after a major rebuild and refurbishment of the offices and warehouse, in conjunction with Broadway Property Group.
Peter Fermor, managing director of Tyco, says the firm has consolidated its Wormald and ADT Security commercial operations from two locations in New Lynn and Penrose to the Henderson Place property,
"We're very happy to have been able to integrate part of our Auckland operations under one roof at the property," Fermor says.
"The move has resulted in operational efficiency gains across the business, especially within the Wormald operation which was split between two sites and will soon be shortly located together."
The company's Wormald business provides fire alarm and sprinkler installation, service and maintenance among other services; while ADT Security will operate its commercial and retail security operations from the property.
Broadway Property Group bought 8 Henderson Place in October 2012 and managed the refurbishment.
Kim Hughes, development manager at Broadway, says the refurbishment has "completely relaunched" the building, constructed in 1990, as a top-class facility.
"What were previously partitioned, individual offices over two levels has been completely stripped out and re-fitted as modern, open-plan work areas, with meeting rooms and offices around the edge of the space. An up-to-date new reception and customer waiting area has also been constructed," Hughes says.
A new, two-storey wing was also built, housing a cafeteria, training room and further office space, says Fermor.
"Careful consideration went into planning the office space, to create a modern, open-plan environment where our staff are able to collaborate more efficiently. We also modified an outdoor courtyard in the centre of the building to provide an attractive space for staff lunch breaks."
Herlihy says Broadway also oversaw improvements to the warehouse, including canopy extensions and the removal of a large cool-store section to accommodate further racking. The car park was extended to accommodate 140 cars on site, as well as a yard extension to provide more space for truck movements.
"We estimate that partnering with Broadway to rebuild the existing property realised cost savings of 15 to 20 per cent over an equivalent design-build option," he says.
"Following Broadway's careful management of the rebuild project, Tyco is now able to service its clients from a single, modern, central location along with having efficiency gains and a huge improvement in the quality of the building and facilities."
The large size of the warehouse and open-plan offices also provides Tyco with room to grow in the future, an aspect which was carefully considered during the planning phase,
The property became vacant after a change in corporate strategy by the previous owner occupier, Roche Products (NZ) Ltd. The facility was purpose built for Roche, which housed its New Zealand headquarters in the office portion of the property and used the temperature-controlled, clean warehouse facilities for distribution purposes.
After the outsourcing of its logistics operation and other changes to its business, Roche decided to move to an office-only property and moved to a rebuilt and refurbished commercial building at 98 Carlton Gore Rd, Newmarket, following a lease deal negotiated by James MacCormick of Colliers International.
The 8 Henderson Place complex features a high level of security, incorporating Tyco Fire and Security's own products including high-definition CCTV, card encryption technology, wireless door locks and a new fire sprinkler system.
The company's data servers are also protected by a relocated special hazards system.
Herlihy says the property's strategic location gives easy road access to State Highways 1 and 20, as well as Auckland Airport which is only 13km away. The inland Metroport is 1km distant and it is 12km to Auckland's CBD.