Great North Rd corner property could be converted to a residence and business.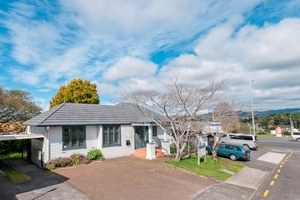 A high-profile Henderson corner property fronting busy Great North Rd and a quiet suburban street is being offered for sale after a decision by the legal firm that owns it to relocate elsewhere.
"The sale represents an excellent opportunity for a smart investor or owner-occupier to secure a freehold property with a huge upside somewhere down the track," says David Savery of NAI Harcourts, Henderson, who is marketing it for sale by auction on October 12.
The law firm's practice is within a single-level converted dwelling at 1 Buscomb Ave and faces the quieter residential street.
Another portion of the same property, in an older building fronting the busy arterial route of Great North Rd, is leased to a well-known party shop.
Savery says the 743sq m site is a significant piece of commercial land that is zoned Community Periphery under the operative district plan.
"The two buildings on it provide a total of 303sq m of net rentable floor area," he says. "The retail showroom is rented on a monthly lease at $1100 per month.
"While the building fronting Buscomb Ave has been converted into a tasteful office suite, it could be converted back into a home or re-leased to another legal or professional practice. It would suit many types of smaller businesses, like a dentist or a physiotherapist."
The original solid three- to four-bedroom home featured high ceilings and wooden floors.
"It wouldn't take much to return it to a smart home, if someone wanted to live there and retain the Great North Rd shop for a combined home and income property." Savery says.
Balloons Direct director Greg Powney, who has occupied the retail outlet and showroom for the past six years, says the location facing Great North Rd has worked because of high visibility to passing traffic with thousands of cars passing every day.
"My wife started the business initially in our garage at our home but when we decided to move into retail premises we chose this property because there was parking right outside the shop and we wanted the exposure the store provided."
A second shop has been opened in Albany with both outlets providing for private functions, children's parties and for large corporate events.
Powney says the Balloons Direct showroom seems to be located in one of the older buildings in Henderson and could have originally been the home of a local dairy on the edge of a bullock track, dating back to World War II.
"Customers say they used to buy their lollies here as children and an elderly lady told me it was a general store, where American servicemen bought nylons for their girlfriends."
Savery says a new owner of the two buildings would essentially be land banking because of the projected growth of West Auckland.
"There has been a massive amount of redevelopment in and around the main Henderson shopping precinct in recent years and this has spread outwards to the periphery.
"In Buscomb Ave, for instance there is at least one new apartment block which is just one property along from this one."
Savery says the new four-level block of apartments with basement parking, has been built on a smaller site and is typical of what can be achieved in this area.
"The immediate surrounding area comprises a wide variety of property types of mixed age and use, including residential homes, the Henderson police station, suburban office and retail developments and a community church.
"The proposed new District Courts building for Henderson is to be located about 250m to the southeast, easily within walking distance."
What's on offer
The property: High-exposure commercial site.
Where: 1 Buscomb Ave, Henderson.
Sales method: By auction on October 12.
Agency: NAI Harcourts, Henderson.