32 ELGIN ST, GREY LYNN
SIZE:
Land 473sq m, house 124sq m (approx).
PRICE INDICATION:
CV $900,000.
INSPECT:
Sat/Sun/Wed 12-12.30pm. Auction: October 6.
SCHOOL ZONES:
Grey Lynn School, Kowhai Intermediate, Western Springs College.
CONTACT:
Brent Clark, Custom Residential, ph 027 537 6571 or 360 4861.
FEATURES:
Character-filled villa on west-facing site. High ceilings, wide central hallway and spacious bedrooms. Sunny, landscaped back garden. Level entrance to front door, so could be ideal for people with limited mobility. Close to Grey Lynn Park and shops, as well as Ponsonby Rd. Suitable for a renovation project.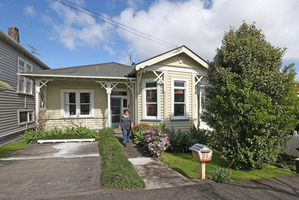 Most houses hold fond memories for the owners, but Dawn Holland will always have extra-special memories of the 24 years she has spent living in her Grey Lynn home.
For a start, there's the time she delivered a baby in the living room. She's a midwife and was able to offer her services when her friend Lisa, who used to co-own the house with Dawn, wanted a home birth. Lisa's son Adam was born there 23 years ago.
"But don't worry, the carpet has been ripped up since," laughs Dawn.
The house has been the venue for many occasions, including Lisa's 50th birthday party.
"I loved hosting different events here and there has always been lots of people coming and going in this house," says Dawn. "It is really great for entertaining."
When Dawn and her friends Lisa and Andrew decided to buy a house together in 1989, they were looking for somewhere with decent-sized bedrooms for each of them as well as spacious communal living areas, and the Elgin Street villa fit the bill.
It also came with a bonus fourth bedroom.
The trio, all single at the time, had decided that pooling their resources to get into the housing market made good financial sense.
"Interest rates were 14.9 per cent and you needed a 25 per cent deposit," recalls Dawn. "None of us could afford to buy anywhere on our own."
She'd flatted with Andrew and Lisa before, and was sure they would all get on. And when they saw the house for the first time, they knew it would suit their needs.
Built in 1912, it had been a student flat and wasn't in the best of conditions, but they didn't let the bicycle tyre tracks in the wide central hallway put them off.
"It was a lovely old villa - it was big and it was in Grey Lynn, which I really wanted," says Lisa. "I loved the eccentric, Bohemian feel of the area."
Dawn wasn't so bothered about where she lived, and even though her mother burst into tears when she saw the house, because it was in a suburb considered at the time to be somewhat downmarket, Dawn soon came to love the neighbourhood.
"It's good because it is so central, but there is also a great sense of community around here."
Dawn eventually bought out Andrew and Lisa. In the years Dawn has lived in the house, she hasn't done a huge amount to it, other than concreting the brick fireplace between the living and dining rooms and painting throughout.
Many of the home's lovely old period features have been preserved - including sash windows, matai floors, leadlights, wide skirting boards and a stunning pressed metal ceiling in the living room.
Outside is a different story, however, as the west-facing garden has been transformed. "It needed to be - it was like a nuclear wasteland," jokes Dawn.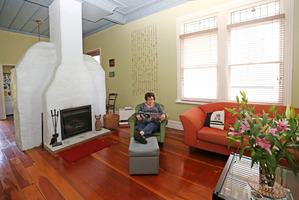 Part of the sloping lawn was levelled to create a patio next to the house with room for a table and chairs, and a mound at the back of the garden that turned out to be a huge pile of rubbish was cleared. They uncovered everything from car parts and mattress springs through to a pig's jawbone, recalls Lisa.
Dawn asked a client who was a landscape designer to make over the garden, and it now has sub-tropical plants, a small sitting area and outdoor lighting that comes courtesy of Dawn's electrician brother David. "I love the garden - I spend a lot of time out here," says Dawn.
She had planned to put in a new kitchen and anticipates that new owners may want to do that, along with updating the bathroom and perhaps reconfiguring the back of the house to make the most of the west-facing aspect.
For her, the house has been perfect as it is, but she is now ready to find somewhere smaller.