Filter Room Ale and Cider House a going concern ripe for the picking in the Bay.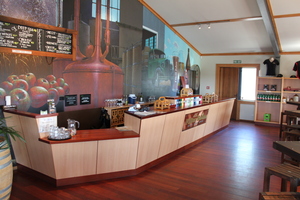 An established Hawkes Bay niche food and beverage business, The Filter Room Ale and Cider House in Meeanee, midway between Hastings and Napier, has been placed on the market for sale as a going concern within leased premises.
"The Filter Room is a very popular destination for those looking for a variation on the winery theme that the Hawkes Bay region is renowned for," says Russell Hannah, of Bayleys Hawkes Bay, who is marketing the business for sale by negotiation.
The multi-faceted hospitality operation is open seven days over the summer season, starting at Labour Weekend, and open Wednesdays through Sundays over the winter months.
The business is on Awatoto Rd close to the main intersection with Meeanee Rd around 15 minutes' drive to Napier or Hastings.
"It has carved out a place for itself on the back of the increased popularity of traditionally brewed beers and ciders," Hannah says. "The Filter Room is surrounded by cider apple orchards and has a comfortable, laid-back feel with the benefit of a classy dining establishment with cafe-style casualness.
"Customers can taste the beers and ciders, purchase them from the store along with other merchandise, dine at the cafe, tour the brewery and utilise the function venue options."
The tasting room of the Filter Room Ale and Cider House allows customers to sample a range of beverages from the 18 varieties on tap with a specially designed tasting tray. Tours of the neighbouring Hawkes Bay Independent Brewery are on offer with a 30-minute guided tour exploring the history, art and passion of traditional brewing methods.
Hawkes Bay Independent Brewery has been operating since 1995 from purpose-built brewery premises next door to The Filter Room. Their award-winning craft beers and ciders include Black Duck Porter, in 18th century London style; Hawkes Bay Pilsner; Fat Ass Scrumpy; Kingston Perry, a pear cider; and Bug Ginger Beer.
There is a lease in place on the Filter Room premises for six years from March 2013 for $84,000 a year. The buildings are rustic in style in keeping with the rural location and there is a good flow to outdoor courtyard spaces with plenty of on-site car parking.
The cafe part of the operation was formerly known as The Cider Tree Cafe and can cater for up to 100 people for a sit-down meal or up to 250 for casual drinks and finger food.
"This is a proven function venue and is popular with groups for weddings, staff and corporate events," says Hannah.
"Hawkes Bay produce is featured strongly, while beer or cider is incorporated into many of the dishes in order to reinforce the products which define The Filter Room.
"Established operating systems streamline the running of the bar and cafe operations and The Filter Room has a core of well-trained and friendly staff that would be keen to remain under new ownership which would ensure a degree of continuity and ease a new owner into the day-to-day business."
Chattels include a Chubb security system, office equipment, outdoor seating, decorative wine barrels, speakers, cafe tables and chairs, kitchen equipment and serve ware.
"Hawkes Bay as a region is widely branded as 'Wine Country'," Hannah says. "Hastings has always been known as 'the Fruit Bowl of New Zealand' and Napier as the 'Art Deco City'. Increasingly, however, the appeal of the region is broadening with extensive cycle and walking tracks opening up access to the landscape and some very innovative business people redefining the Bay's provincial appeal.
"Recently released reports claim Hawkes Bay's regional economy had a boost of $22.2 million in the wake of New Zealand's largest cruise ship season to date.
"The region's advocates, Hawkes Bay Tourism, are continually initiating new campaigns and incentives to boost visitor numbers," he said.
"The hospitality sector remains a vital part of the mix."
What's on offer?
Hospitality enterprise: The Filter Room Ale and Cider House.
Where: Meeanee between Napier and Hastings, Hawkes Bay.
Comprises: A going concern business within leased premises.
Agency: Bayleys Hawkes Bay.
Sales method: By negotiation.