330 VICTORIA AVE, REMUERA
SIZE:
Land approx 2372sq m; house approx 425sq m.
PRICE INDICATION:
CV$9.5 million International tender closing September 25.
SCHOOL ZONES:
Victoria Ave Primary, Remuera Intermediate, Auckland Grammar and Auckland Girls' Grammar.
CONTACT:
Megan Jaffe, Ray White Remuera, ph 021 611 461.
FEATURES:
* plus off-street parking for 5 cars. Heritage features. Tiered grounds, in- ground pool, 43m beach frontage;. separate courtyard; media room/casual lounge.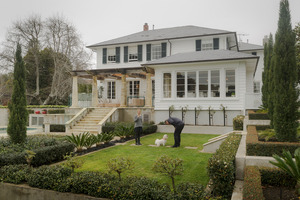 A quiet moment stretched to 20 minutes the day Steve Walker visited the property he'd heard about from a friend.
"The sun was shining, the tide was in and I was sitting on the steps in the tiered garden," he remembers. "I went back home and said to Clare 'You won't believe this place'."
After two years of hunting for a larger, long-term family home in their Remuera neighbourhood following an earlier shift from Christchurch, they knew they had found a real show-stopper.
"We thought we knew everything in Remuera but we obviously didn't," Clare explains. "People think that Victoria Ave ends at Baradene School or at the roundabout at the bottom. We could not believe that down this long driveway there was a home right on the water. It's a real piece of solitude that you'd never expect to find in a city."
As Steve explains, "There was no real concept of living 'on the water' in Remuera. We knew that we had to own it. We knew that if we missed out we'd always regret it. It was really an old house on a hill but it was a special piece of dirt."
Built in 1941 by Thomas Raymond Impey, this house was home to his son, Thomas Stewart Impey, until his death, making the Walker family only the second owners in its history.
Unperturbed by its wartime decor, Steve and Clare knew that it needed little effort to become a perfectly liveable home for them and their two daughters, Charlotte who was 2 and Maddy, who was six months old.
In the interim Steve and Clare redecorated, polishing the pristine heart matai floorboards under the old carpet, replacing old blinds with calico curtains and painting the walls in neutral tones.
Four years later, with young Issy now in the picture, they engaged Christchurch architect Kerry Mason, of Warren and Mahoney, to dovetail modern functionality and historical integrity into a complete renovation.
The reconfigured ground floor living areas feature a combined kitchen and dining area with bi-fold shutters overlooking the garden down to the 43m frontage along Wilson's Beach.
On one side it opens to the terrace; on the other it opens out to the courtyard off the media room, which is the girls' favourite haunt when their friends turn up.
Upstairs, Steve and Clare built above what used to be the maid's ground floor quarters, a decision that Clare believes has given the house an even better form as it first comes into view down the driveway.
Inside, the smallest attention to detail is evident everywhere. The double french doors, with their bevelled glass, which open from the entrance into the kitchen are original. Identical doors opening from the entrance into the formal lounge by the terrace are replicas. A new circular window upstairs is identical to an original in the entrance. New balustrades in the upstairs extension were crafted to match the original.
Beyond, the rebuilt tiered gardens and pebbled pathways are elegant formality in a setting that has made great family memories.
Steve, an investment banker, enjoys gardening and his potager-style vegetable garden is a favourite place of solitude.
The three Walker girls each had bantam hens as well and these had their own place of residence under the pool house.
"There weren't many young families when we moved in," says Steve. "I think we were the only source of noise in the area."
More recently life has quietened considerably. Charlotte, 23, has left for Oxford University, Maddy, 20, is studying at Otago University and Issy is in her last year at secondary school.
Says Steve, "This home needs another family."