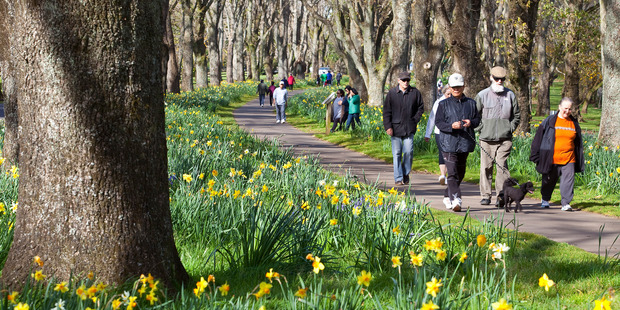 Real estate prices in Epsom hit the news recently when a four-bedroom home sold at auction for $2.5 million - 82 per cent above its 2011 CV.
Newsworthy for sure, but not really that much out of the ordinary in a suburb that is seeing strong demand for quality, character homes.
The two-storey home that hit the headlines - 11 Heywood Cres - was marketed by Steve Williams, of Ray White Remuera, and featured a swimming pool.
When 11 Heywood Cres went to auction, Steve Williams says there were five bidders at the beginning in the auction rooms and three people bidding by telephone.
"It opened at $1.2 million and quickly moved to $1.9 million and then moved on up with four bidders exchanging bids to $2.25 million with the next three bidders taking it to $2.38 million and then two slogging it out up to $2.488 million, and the final bid of $2.5 million stopped the show."
While that auction scenario is one of the more dramatic in recent times, James Marshall, a co-director of Harcourts' Mt Eden-Epsom office, says it is simply part of a trend.
"Those wanting to live in Epsom for everything it offers do have to pay the price," he says. "With prices in the 12 months to June 30 climbing by 17.5 per cent and taking the average selling price to $1,211,039, compared to the previous 12 months average price of $1,030,952."
He says with such strong demand, his office has achieved a record 97.5 per cent sales clearance rate at auction in the three months to July 31, well ahead of previous years' auction clearance rates.
Diana Buczkowski, of Barfoot & Thompson, says the demand for Epsom is driven by people wanting to live in "a real family orientated suburb", most of which is zoned for sought-after Epsom Girls Grammar and Auckland Grammar.
"It also has high decile, popular primary schools," she says. "St Cuthbert's College and Diocesan offer private options for girls.
"In parts of Epsom like Greenwoods Corner, many families start out at the local kindergartens and their children grow up together moving through the different schools in the suburb. There is a real sense of connection that attracts people to buy in an area where they know they won't have to shift again for schools."
Diana says: "Epsom also offers a range of housing styles and options from substantial landmark properties through to small brick and tile units offering options depending on budget."
James Marshall says that while being in-zone for desirable schooling is a huge drawcard for the suburb, Epsom is also desirable because it is handy to Newmarket and the city.
Diana Buczkowski says: "At its heart, Epsom has our wonderful Cornwall Park and One Tree Hill; over 220ha of working farm and park in the middle of our city. With its ever-changing vista and animal life, it is a popular destination for daily exercise and family fun in the weekends. We also have an array of fantastic shopping, restaurants and cafes - not to mention the Lido Cinema. "With its leafy streets and local reserves dotted about, there is abundant birdlife in Epsom - especially tui and kereru."
Residents also have easy access to major facilities such as the ASB Showgrounds, which hosts trade fairs and the annual Easter Show. Alexandra Raceway next door has regular trotting meetings, and it is also home to Grand Park, which is a popular yum cha restaurant that buzzes with family get-togethers on the weekend.
Recent sales
Barfoot & Thompson has three recent sales that give an overview of prices in the area, starting with 2J Alpers Ave, a three-bedroom, two-bathroom apartment that changed hands for $600,000. A five-bedroom, three-bathroom home on 929sq m at 89 St Andrews Rd sold for $1.55 million. A modern home at 7 The Drive sold for $2.83 million. This five-bedroom home sits on 898sq m and has more than 400sq m of floor area, a swimming pool and double garaging. James and Charlotte Marshall, of Harcourts, sold at auction 3/27 Epsom Ave, a two-bedroom unit, for $649,000, compared to a CV of $395,000.
They also sold 79 Epsom Ave, a four-bedroom home on 713sq m that had a CV of $1.76 million but changed hands for $2.375 million. Their colleague Bill Myers marketed 2 Mt St John Ave, a two-bedroom 1880s cottage with a floor area of 92sq m on a 225sq m section. With a CV of $600,000 it sold at auction for $1.062 million. James Marshall says this property went "off the Richter Scale for number of bids. It went on the market at $800,000 and 231 bids - yes, 231 - later it sold".
Property prices
An average two-bedroom unit or apartment in a block of units with common grounds will cost upwards of $600,000. A mid-level property would be a three-bedroom renovated home on a half site of perhaps 400sq m or a three-bedroom original house that needed renovation on a larger site of 800sq m selling for $1.4 million to $1.5 million. Top end would be four or five bedrooms, renovated and with at least 900sq m of land where you would expect to pay anywhere from $2.5 million to more than $4 million.
Best streets
Epsom is divided into popular and sought-after pockets. In each pocket, the following would be considered the top streets: Sharpe Rd, Omana Ave, Emerald St, Fern Ave, Golf Rd, Gardner Rd, Coronation Rd, Wapiti Ave.
Rents
Two-bedroom homes normally rent for $400 to $500 a week, three-bedroom dwellings cost $500 to $600, while larger homes start at $800 a week and can go into the mid-$1000s.
Schools in the area
Epsom Normal School, Kohia Terrace School, Royal Oak School, Auckland Normal Intermediate, Epsom Girls Grammar, Auckland Grammar.
Local attractions
LIDO CINEMA
One of the more comfortable movie theatres in Auckland, the Lido offers mainly arthouse movies and has a cosy lounge for pre-movie rendezvous and drinks.
CORNWALL PARK
Still a working farm, Cornwall Park offers wide open spaces for the public, making it ideal for biking, jogging and picnics.
GREENWOODS CORNER
An area of Epsom that used to be a bit neglected, Greenwoods Corner has been rejuvenated with a range of cafes, restaurants and retailers that give this shopping area a buzz.