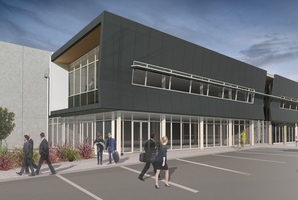 Hydraulink and AA Insurance have signed up with landlord DNZ Property Fund for the construction of new design-build facilities in Penrose occupying a high-profile spot on the corner of O'Rorke Rd and Station Rd, a main thoroughfare in the area.
Paul Higgins and Hamish West of Colliers International have recently negotiated a deal with Hydraulink to commission a 3390sq m facility at 25 O'Rorke Rd, on a large 5.2ha site owned by DNZ.
AA Insurance has also signed up for a new 1400sq m customer service centre under construction next door, through James MacCormick and Jenna Van Sambeek of Colliers.
The site, which previously contained old, low-stud manufacturing buildings, is already home to Laminex, which completed its new 12,534sq m warehouse and 2217sq m head office in 2010.
Higgins says Hydraulink and AA Insurance already had a presence in Penrose and were keen to stay in the area so the brief was to find them a property in the same area.
Van Sambeek says having the ability to work with DNZ to design and build modern facilities tailored to their individual requirements was a big draw for both tenants.
"There is a strong trend for businesses to prefer modern, column-free, high-stud buildings that deliver better efficiency, along with features such as fully sealed yards, large covered canopies and good staff amenities. Design-build options are a popular choice among occupiers keen to maximise their operating efficiencies and secure their property requirements into the future."
Hydraulink has agreed plans for a new, purpose-built head office and distribution facility that will also incorporate a showroom and large warehouse. It is expected to be completed in November this year.
The New Zealand-based company, which produces hydraulic hoses and fittings for clients across Australasia and the South Pacific, will locate its Australasian head office at the new facility.
Hydraulink director Lee Short says the company has chosen to remain in Penrose because it is close to rail and motorway transport and bus routes. "Being near major courier companies is also essential to our business with many of our customers requiring deliveries of our products by overnight courier."
Short says that following rapid business expansion, the company has now run out of space at its Penrose location. "Our new building will be double the size of our current premises, and we also have the flexibility to extend the building in the future, on to a portion of empty land on the property."
AA Insurance will use its new purpose-built facilities, expected to be completed in October, for one of its customer service centres. Simon Hobbs, head of product design and performance, says it will also incorporate office space and large open plan warehouse. "The centre provides a one-stop-shop for customers with a damaged vehicle," Hobbs says. "Each car is assessed and quoted on at the centre before being repaired and painted, then returned to the centre for a quality check.
"Having outgrown our current premises in Penrose, we needed to find a much larger property in order for us to be able to serve more of our customers when they need us most. We also need more space for our team to be able to work more efficiently and get our customers back on the road as quickly as possible," he says.
"A search of the local market failed to bring up a suitable existing property that we could modify, so we opted to design and build our own new facility that will meet our needs exactly, including location and security."
Higgins says the signing of the new deals signals continued strong interest in Penrose as a business location. "These projects are part of an emerging trend that will see a lot of the area's older, semi-redundant buildings replaced with modern facilities."
West says such a development is a natural evolution for Penrose, given its central location. "Penrose is an ideal location for businesses, being located halfway between Auckland International Airport and the port. Businesses have wanted to be here for more than half a century and this is now being proven anew with the beginnings of a widespread regeneration underway."
Paul Duffy, chief executive of DNZ Property Fund, says its deals with Laminex, and more recently Hydraulink and AA Insurance, illustrate the desirability of the central industrial area among businesses as well as the changing property requirements of today's industrial occupiers.
"A site which was previously home to a 1950s sawtooth-roof, low stud manufacturing building is now going to contain a collection of new, functional, high-stud and clear span warehouses supplemented by modern extras such as showrooms and cafes," says Duffy.
"We are proud to lead a regeneration of this part of Penrose and we see these projects as a good example of how an ageing precinct can undergo a rebirth and be brought into the new century, driven by its excellent location and the high demand from occupiers to be based there."