Building near motorways has two adjoining character buildings with office, retail, and residential tenancies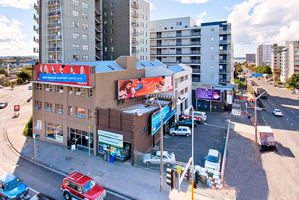 Two fully leased Auckland CBD commercial buildings, both producing rental income of close to $400,000 a year and with potential to add value in future, are featured for sale in Bayleys' latest Total Property magazine.
Alan Haydock of Bayleys Auckland says the first city property at 7-9 Union St is on the corner with Nelson St - one of the central city's most recognised corner sites providing huge exposure to 120,000 cars on average a day.
Haydock is marketing the property with Cameron Melhuish and James Chan by tender closing September 17 unless sold before that date by private treaty.
The 886sq m site contains two adjoining character buildings totalling 1322sq m, with diversified office, retail, residential and signage tenancies producing total net annual income of $403,683.
The main building at 9 Union St comprises a freehold three-storeyed character building with frontages to Union and Nelson Sts. It has two commercial tenants on the ground floor and 10 residential apartments on Levels One and Two, known as the Junction Apartments, plus a total of 13 on-site car parks.
"The apartments are extremely popular with tenants because they are spacious, have high stud ceilings, exposed brick walls and polished concrete floors. They are immaculately presented with contemporary fit-outs which include modern kitchen and bathroom fixtures and fittings," says Haydock.
The apartments range in size from a 56sq m one-bedroom dwelling to larger two-bedroom loft apartments up to 163sq m. The apartments have individual alarm systems and separate water and power meters. They are leased out at between $310 and $550 a week and are producing total net annual rental income of about $182,000.
Each floor of five apartments is on a separate unit title. Haydock says a new owner might want to investigate the potential of adding further value to the property by subdividing the apartments further on to their own single-unit titles. This would mean that they could be sold off individually.
"The ground floor is also on its own unit title, and has been divided into two commercial tenancies which both offer contemporary, open plan office space and incorporate an elegant high stud with exposed beams and building services," says Haydock.
Cook Brothers Construction occupies 264sq m with its main entry and reception off Nelson St. Boom Media occupies the balance of the ground floor's lettable area comprising 155sq m which includes a boutique cafe. Its space is accessed from the building's main foyer area on Union St which also provides lift access to the apartments above.
A smaller single-level freehold building on a separate 98sq m title at 7 Union St was built in the early 1900s. Melhuish says many of its attractive attributes, typical of this era, have been retained and it is very well presented. Its main entry, from Union St, leads, into open plan, high-stud retailing space with a stockroom, kitchen facilities and bathroom with shower at the rear. The building is at present leased to a convenience store at a net rental of $22,040 plus GST a year. Melhuish said it would suit a range of retailers that would benefit from demand that comes from the residents of over 1300 apartments within a five-minute walk.
An important generator of income from the property is its signage. APN Outdoor, which rents out multiple billboards on the site, has a seven-year lease from April 2011 which is producing current annual income of $135,800.
"It's the first property that vehicles exiting the Northern and Northwestern Motorways into the CBD pass as they travel along Nelson St and has huge profile to the many cars that are stationary at the traffic lights opposite the building," says Melhuish.
"In its totality, this property represents an excellent opportunity to secure a strategic slice of Auckland's CBD. It offers a high-profile, fully leased split risk investment opportunity with multiple income streams, yet provides long-term rental growth and development potential."
The second CBD building is a three-level retail and office building, plus basement car parking, on a prominent 602sq m site on the corner of Hobson St and Cook St. It has a net lettable floor area of 1413sq m plus 20 car parks and is currently producing net annual rental income of $383,202.
Expressions of interest in the property are being sought by Colin McKenna, Stephen Scott and Robert Platt of Bayleys Auckland who are marketing it for sale.
"This is an excellent opportunity to secure a high-profile, fully leased investment property only one block from Sky City Casino and the new convention centre planned for that site," says McKenna. "With a substantial frontage on to Hobson St, the Auckland CBD's main arterial connection to both the Southern and Northwestern Motorways, this property provides great exposure for the ground retail operator with convenient on-site customer car parking as well, which is a rarity on that street."
The 403sq m ground retail tenancy is accessed from a central entrance in Hobson St which also provides three short-term car parks. There are a further 17 parks in the basement.
The ground floor is occupied by an Asian grocery on a lease that runs until 2018. The upper-two levels are occupied by an education and office tenancy which is an associated business of the property's present owner. McKenna says the owner is prepared to consider extending the lease on these floors, which currently runs until 2019, to enhance the property's appeal to an investor.
"Alternatively, the vendor is willing to look at relocating the business and to make that space available to an owner-occupier as required. The property may well suit another business looking for an affordable freehold opportunity offering a high-profile CBD presence. The building provides excellent signage exposure to both Hobson St and Cook St."
A tiled entry lobby for the two upper levels, with access via a lift and a stairway, is located at the Hobson St frontage, although there is a separate entry for these floors off Cook St as well.
The floors which are just over 500sq m each are similar, comprising partitioned office and classroom-type space with a mixture of solid and glazed internal partitions.
Scott says the ground floor has a generous 3m stud height and receives good natural light from the fully glazed street frontages. "While it obviously works well from a retail point of view because of its strong street presence, the location and layout would also suit office use or perhaps a combination of office and showroom use."