125 SANDSPIT RD, WARKWORTH
SIZE:
1.647ha, house 322sq m plus decking.
PRICE INDICATION:
$1,375,000.
INSPECT:
Sunday 2-3pm or by appointment.
SCHOOL ZONES:
Mahurangi College, Warkworth Primary, Matakana Primary, daily bus service to Wentworth and Kristin schools.
CONTACT:
Jeneen Binsted, Harcourts, ph 09 425 7889 or 027 536 7107.
FEATURES:
North-facing home with landscaped grounds, outdoor entertaining areas and swimming pool. Three paddocks and stream.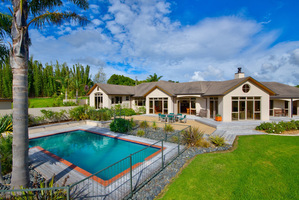 Literally a minute from Warkworth and its trendy shops and cafes, James and Jacqui Holgate have been enjoying the quiet life. Their country home looks out over neat fields and native bush and they relish the seclusion of this 1.5ha rural idyll right on the edge of town.
"We'd been farming west of Warkworth for many years and when we found this site we decided it was perfect for our needs," James says. "We had a teenage family at school and into sport, and this had everything to offer."
The land - facing north-east with an easy contour - is reached via a quiet country lane, and has three paddocks and a bush-fringed stream. Pretty rural views extend the feeling of wide open spaces.
James and Jacqui had a fairly straightforward wish list for their new home. They wanted a single level, low-maintenance house with plenty of space for the family both indoors and out.
"Single level because we were looking to the future and our retirement, and good outdoor living space because you need to be able to work in the garden to deserve a beer," James laughs.
Having come from a farm they also wanted a country feel, so with local architect Dave Adams' help, they designed a house to capture all the sun and the rural views, and with living spaces opening on to decks and patios.
The house was built in 2000 by award-winning local builder Richard Willcock. Quality materials were also in the brief, and this is evident inside and out. As is common in a country home, the kitchen is the hub of the house and combines contemporary design with country style. Cream painted tongue and groove cupboard doors, retro brass drawer pulls, timber edged benchtops, and a tongue and groove timber breakfast bar enhance the character of the space.
Timber also plays a big part in the living areas, with timber architraves, shutters and a pitched timber ceiling in the living area.
While the colour palette is predominantly cream, James and Jacqui have chosen warm accent colours for each area.
The pohutukawa red in the kitchen is picked up in the lounge's feature wall and in the alcoves beside the fireplace. The adjoining dining area is a serene taupe.
"We designed the house with this central living area with the master bedroom and office at one end, and the children's bedrooms opening off a family room on to decks and patios at the other," Jacqui explains. "It has its own hot water cylinder and heating system."
Spacious outdoor living areas for entertaining are paved for easy care and softened by low maintenance plants. The pool is deep enough to dive into.
Although the outdoor areas make it a perfect house for summer entertaining, Jacqui has also loved living here in winter.
"It's always been such a lovely place to come home to," she says. "It gets all-day sun, and there's under-tile heating and an open wood fire to keep it warm and cosy."
They've enjoyed being close to town, and handy to Matakana and Omaha surfbeach in one direction, and Sandspit marina, Algies Bay, Martin's Bay and the regional park in the other. And being just one minute to SH1 is another advantage.
Therefore, the couple is staying in the area. "This has been ideal for our busy family years but with the children now living overseas, it's time to move on to new ventures."