4 HOBDAY PL, MEADOWBANK
SIZE:
Land 1318sq m, house approx 200sq m (approx).
PRICE INDICATION:
$1,250,000-$1,500,000.
INSPECT:
Sat/Sun 12-12.30pm, on-site auction 1pm, Sept 14 (unless sold prior).
SCHOOL ZONES:
St Thomas's School, Selwyn College.
CONTACT:
Michael Ataman, Barfoot & Thompson, ph 0274 892986, DDI: (09) 215 6541.
FEATURES:
*Plus off-street parking for four. Chic, modernist home offers ultimate lifestyle for a family. Gourmet kitchen and dining/ living area open to poolside retreat. The site lends itself to development opportunity.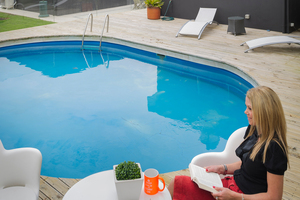 Rachel Shenkin loves how the driveway to her stylish 1970s home sweeps upward and around the corner to a big reveal.
Up here, tucked behind other homes in the Meadowbank cul-de-sac, a beckoning door is painted bright orange against the charcoal grey of the funky U-shaped house, built of sturdy concrete block.
It's peaceful but for the birdsong.
"It's like a little oasis kind of a thing," says Rachel.
"You don't expect it when you're down in the street and then you come up here and it just opens up. You come up here and you go 'wow'. That's what we did when we first came up, we just went, 'Wow, this place is perfect'.
"It's big and it's got lots of land for the kids and the animals and the indoor/outdoor flow is pretty cool, and the land is pretty easy to maintain. It feels really secluded and safe."
Behind the orange door Rachel has exploited the vibrant colours of the 70s. Contrasting with the clean, white walls are splashes of colour, such as the bright orange-flowered blinds with big green leaves in the 'kids' zone'.
"I love orange," says Rachel, who's wearing orange today. The 'kids' zone' could easily be a fifth bedroom. It has a built-in wardrobe but Rachel has set it up as a second lounge and computer room so that the door can be shut when the grown-ups are entertaining in the "adult zone" next door; a large, airy lounge with plenty of room for the big dining table at one end.
This room has seen plenty of life, says Rachel, who explains she looked for a home in Meadowbank because she is Jewish and there is a big Jewish community here.
The lounge has hosted kiddushes, blessings of the wine and bread on the eve of Shabbat, the Jewish day of rest. The lounge opens to the tiled outdoor "entertainment zone", then, a few steps up behind a glass fence is spacious decking and an enticing swimming pool. The sun drenches the entire space, says Rachel, who has spent many summer days stretched out on a sun chair while the children played in the pool.
Down one side of the U-shape is a wing of bedrooms, three roomy smaller ones and a large master bedroom, which has access to the pool and deck, and has a renovated en suite.
There is a separate bathroom, too, and a large kitchen, which Rachel loves because it is so easy to work in, and because she loves to bake.
Outside the kitchen and a separate laundry is a big asphalt area that leads to a double garage painted the same colours as the house.
Rachel says this space set the scene of many memories. She used to have a big pot of chalk and the children would draw hopscotch and four square on the asphalt, shoot netball hoops and whizz around on their bikes.
"We just wouldn't see the kids. They'd be out here and in the garage and running around the property, and when I went to work I'd just lock the gate and doggy would stay in and it was really safe."
Rachel says she will miss living here but plans to move to Glendowie so her daughter can continue her Jewish schooling.