97 LUCERNE RD, REMUERA
SIZE:
Land 607sq m, house 379sq m including decks.
PRICE INDICATION:
Interest expected in the mid- $1 million range. Auction Sept 10.
INSPECT:
Sat/Sun 1-1.30pm and Tuesdays 5.45pm to 6.30pm.
SCHOOL ZONES:
Meadowbank Primary, Remuera Intermediate, Selwyn College.
CONTACT:
Steve Hood, Barfoots, ph 021 911 606 or 524 0149.
FEATURES:
Architecturally extended and professionally redecorated 1950s home with Art Deco twist. Formal lounge, family dining, kitchen, bedrooms and bathrooms upstairs. Large media room/children's living, laundry, bathroom and office downstairs. New 85sq m deck with woodburning outdoor fireplace. Gas central heating. *(off-street parking for 2 cars)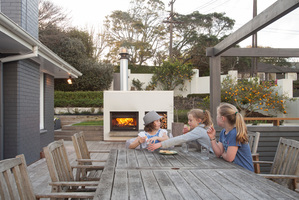 97 Lucerne Rd, Remuera. Photo / Michelle Hyslop
The builder's long "to do" list that interior designer/project manager Anna Cuthbert taped to her french doors to nowhere said it all, really. It detailed the big tasks and smallest details of her family's four-month pressure-cooker house renovation project with a very big date at the end of it.
Just one month after moving in in June 2010, Anna and her fiance, Glenn Marvin, committed themselves to a January 6, 2011 garden wedding beyond those french doors - giving the pair just 16 weeks to complete the work.
By September they had obtained all council consents for the construction designed by architect Warwick Lee, including the 85sq m deck and woodburning outdoor fireplace off those french doors. By December 4, Anna was ready to plant the garden backdrop to it all.
Architecturally, Anna describes this well-built home as "1950s with an Art Deco twist". Together she and Glenn have taken its best features including native timber floors, ornate Deco-style cornices and glass doors, curved interior walls and fashioned a home that suits their busy lifestyles with four school-age children.
Every Sunday morning is pancake day on the deck, even if they're all rugged up against the cold. Glenn - whose weekday job is a digital advertising sales director - cooks in the kitchen beside the dining area, delivering piping hot food out of those french doors to the family's big entertainment deck.
"I just turn up when I'm called," laughs Anna.
Inside, Anna's decorative vision has included wallpapers in the children's bedrooms, the bathrooms and in the dramatic curve of the hall wall.
"I love wallpaper because it adds personality to a room. It's also perfect for the era of this house."
Every decision was about enhancing the integrity of the house, including the scotias, the kitchen servery and the separate wardrobes in the girls' bedrooms.
The couple have kept the upstairs interior footprint intact.
They decided against opening the dining room to the formal lounge. "It would have destroyed the character if we'd done that," says Anna. "But if you slide the Art Deco doors back into the wall you see their lovely timber frames and the brass handles, and that becomes the beautiful frame for the whole room."
Their structural alterations have been downstairs where they have created a large media room/children's lounge, laundry and storage room, bathroom and Anna's office which opens to offstreet parking.
Their all-round attention to details includes copper flashings between the timber deck and the house and fireplace.
Their challenges included replacing the old steep drive down to the front door with a tiered garden and deck all on one level, with defined living, dining and entry areas.
Retaining the character of the front garden and the children's favourite climbing trees was important.
Anna's favourite "secret garden" is the lower lawn with espaliered jasmine along the wall and her favourite pink magnolia peeping above the main deck from within her vegetable garden.
They've planted four cherry trees on the Mapiu St grass verge - firm favourites with visiting tui and just more of the charm the family will miss when they shift to the Grammar zone for their eldest children.