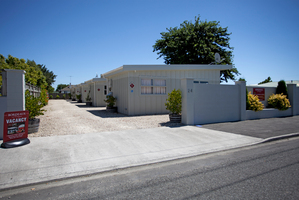 Bordeaux on Cologne, a complex of five homestay apartments on one title and two houses on individual titles close to Martinborough's "wine road" in Wairarapa, are being offered as the freehold property component of a successful going concern hospitality business.
"Bordeaux on Cologne combines a luxurious property with good cash flow, an ideal lifestyle and excellent location," says John Wolyncewicz, of ABC Business, who is marketing the five luxury homestay units for an asking price of $690,000 and the two houses for $450,000 each including all furnishings, stock and goodwill.
"The properties are at 24-28 Cologne Street which runs between Martinborough Square and Puruatanga Rd - also known as Wine Road because it leads to the vineyards for which Wairarapa is renowned," says Wolyncewicz.
"The properties and business are in a top destination and offer multiple options for the owners and clients," he says.
The five units of about 75sq m each at 24 Cologne St are on a 960sq m site, while a 121sq m house at 26A Cologne St sits on a 454sq m section and the second 110sq m dwelling at 28 Cologne St occupies a 1028sq m land area.
"The luxury apartments, which are modern, purpose-built and on one title, can be bought separately or with the well appointed neighbouring houses," says Wolyncewicz.
The apartments and houses can sleep up to 40 guests and include home theatre systems, Sky TV, kitchenettes, spa baths or walk-in twin showers, private secluded yards, sun decks withbarbecues, and off-street parking.
"There is huge flexibility around their configuration and they can be run with minimal input and without employees," Wolyncewicz says.
"Accommodation is pre-paid over the internet and guests check in using keys from a lock box with a code.
"Clients lock up the apartments when leaving and place the keys in the secure letterbox at the end of the driveway."
Most of the trade is over weekends, with the main cleaning day being Monday. "The hours are structured around Fridays and Mondays, and the rest of the week being free time for the owners," says Wolyncewicz.
"Midweek trade is sporadic but there is huge potential to increase this via seasonal workers, shift workers and corporates. There are many repeat customers and there has not been a weekend vacancy for more than three years."
Wolyncewicz says the location is ideal because it allows visitors to walk to most Martinborough destinations.
"Martinborough needs no introduction as a resort and holiday destination, surrounded by top-class vineyards, with a tradition of well supported events and festivals, as well as a thriving rural economy and the infrastructure to support this. Outdoor activities abound and the brilliant climate adds to the mix.
"This is a great opportunity for a property investor looking for a higher yield and a lifestyle business with limited hours ..."