20 CLIFTON ROAD, TAKAPUNA
SIZE:
Land 1030sq m, house 380sq m.
PRICE INDICATION:
CV $2.6 million, buyers at $3 million-plus should inspect. Expressions of Interest close September 3 at 4pm.
INSPECT:
Sunday 2-2.30pm.
SCHOOL ZONES:
Takapuna Grammar, Belmont Intermediate and Hauraki School.
CONTACT:
Richard Milne, Premium, ph 021 770611.
FEATURES:
*plus parking for three more cars. A short stroll to Takapuna Beach, this home has an entertainer's kitchen, informal dining room, pool and outdoor entertaining area.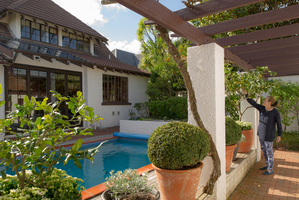 Built in 1918 and dubbed Clifton Manor by real estate agents, a stately five-bedroom gem on the Takapuna coastline doesn't resemble weatherboard villas of its era.
This one is special. There are three storeys - if you count the converted attic - with original oak panelling adding warmth and style to the rendered double brick exterior, and the first level has beautiful wooden parquet flooring with classic geometric patterns.
Owners Susan and John Amos don't know an awful lot about the home's history but do know it was built for a Miss Howie, the unmarried daughter of a wealthy family of importers. In those days it had an orchard and more land and gardens but over the years it has been subdivided. There is still a private swimming pool at the back and an elegant, sweeping driveway out front. At one time the 14th Governor-General of New Zealand, Sir David Beattie, raised his children here.
Susan and John moved in 35 years ago. They bought the house from friends, shifting from only around the corner where they were living in Hauraki Rd.
They arrived with three children and had two more but although there were a lot of young people in the house at times, no one was crowded out. And this is what Susan loves about the home: there are so many rooms and unexpected corners and spaces where she has placed couches and chairs and where she sometimes likes to sit and embroider or where children can find a quiet place for homework.
"When we had five teenagers we could all get away from each other. It's also an amazing house for entertaining. We've had fabulous parties here."
The couple redid the kitchen, which has two separate sinks, and the benchtops are luxurious slabs of Italian marble, including the large island in the centre. Off the kitchen is the dining area and, around the corner, is the L-shaped lounge.
The lounge is peaceful and tastefully decorated, with big blue tartan-style rugs which also sweep up the dark wooden staircase. The style reflects the couple's Scottish ancestry, says Susan. She loves the contrast of the blue against the dark oak panelling, which has never been painted or wall-papered and she hopes never will be. At the end of the lounge is the original brick fireplace, with two built-in seats that double as storage for wood and coal.
Though the house does feature stained oak, light pours in from high windows and Susan and John added a spacious and airy conservatory at the front which blends seamlessly with the interior.
Off the conservatory is a small room where John sometimes retreats to watch the rugby; beside it is yet another room they call the den.
Upstairs, where the birds sing in the trees outside and the sun pours in, are three roomy bedrooms, a tiled and airy bathroom, master bedroom with walk-in wardrobe and en suite.
Another set of stairs lead to the attic, which has been converted into a bedroom, though John uses it now as his computer room, and which looks out to sweeping views of Takapuna and the beach. Susan says she has always felt at peace in this house: "It might sound funny but I think people who have lived here have been happy - it seems to have a nice atmosphere."
The couple are in their late 60s now and want to move to the city to be nearer their children and grandchildren.