Decision to revamp 12-storey block brings quick tenant response.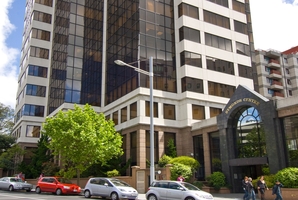 A 'NO VACANCY' sign is close to going up on a 12-level office building at 49 Symonds St in central Auckland following a commitment by its owner to a significant refurbishment of the property.
Nicholas Piper, general manager of Bayleys Property Services which manages the 10,400sq m Symonds Centre building for its overseas owners, says vacancies in the building have dropped from around 30 per cent to close to 4 per cent.
"The landlord has committed to a three-year capital works programme on the building and this has met with a very strong response, with four floors being leased," says Piper. "This will obviously substantially increase the capitalised value of the property and it is a good illustration of the gains that can be obtained from a proactive building refurbishment."
Piper says close to $1.5 million has been spent on upgrading the air conditioning system, with more to come.
Bayleys Property Services obtained an Energy Efficiency Conservation Authority grant to defray a portion of the costs of the new air system. The EECA writes off the grant if, after five years, the property owner is able to show that significant energy savings have been made.
"These sorts of air conditioning improvements are important to tenants," says Piper. "Not only do they provide a better and healthier working environment but they reduce the building's operating expenses, because they are much more energy efficient, which in turn reduces the tenant's total occupancy cost."
Other work on the property includes repainting the exterior and an upgrade of bathrooms and the lifts which is about to start.
An existing tenant has taken three more floors in the building.
Fast growing technology company Optimizer has also moved into the 787sq m top floor of the building on a six year lease, with rights of renewal.
Brendan Graves, of the Bayleys Auckland leasing team, says the company chose the building after an extensive examination of the options available.
One of its most important requirements was being able to secure naming rights.
"The building is in a prominent and high profile corner position on the Symonds St ridge, and benefits from significant exposure to the huge volume of traffic moving up and down the street.
"Optimizer has extensive signage planned for the building which will enable it to make the most of that exposure."
Optimizer provides payment, security and cloud technology services targeted mainly at small to medium enterprises.
Chief executive Manas Kumar says the company had outgrown its previous premises in Anzac Ave and was looking for an upgrade in office space that would give it room for expansion and enable it to make a statement about the company.
"The business has grown from eight to over 40 employees in New Zealand in just over 12 months and the new premises will enable us to at least double that number again," says Kumar.
"We are also taking on new staff in the Philippines, Hong Kong and North America, with plans to expand into Europe and the United Kingdom."
Kumar says the company has aggressive growth plans for the next six to 12 months, focused on the launch of a mobile payment system called Swipe Reader.
This is a point of sale system that enables retailers to process credit card transactions from a smartphone instead of a conventional POS system.
"The launch of Swipe Reader will be co-ordinated from our new Symonds St premises, although because it is still waiting for the go ahead from New Zealand regulators, it is likely it will be distributed in overseas markets before it appears in shops here," Kumar says.
Graves say there is now only half a floor, or about 400sq m, left in the Symonds St Centre.
The building was completed in 1990, and at the time, a building platform was laid alongside it so another tower of the same size could be built at some stage.
Piper says discussions are now in progress with a possible tenant interested in taking a substantial amount of space in this new building.