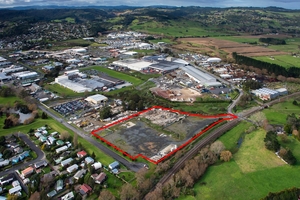 A large Papakura development site that could potentially be subdivided into 11 sections for smaller industrial units is for sale by tender.
The 2.8751ha Industrial 3 zoned property at 14-16 Parker St, Papakura, is being marketed for sale by Shane Snijder, of Bayleys Counties, in conjunction with John Bolton, of Bayleys Manukau. Tenders on the property which is featured in Bayleys' latest Total Property magazine close on August 8, unless it sells prior to that date.
Snijder says the property is on the market because the vendor is now semi-retired and a joint venture to build a 3000sq m warehouse on the site did not go ahead.
He says a substantial amount of time and money has been spent on pre-construction approvals and site works including lifting the building platform which involves approx-imately half the site, fencing, storm water and electricity installations, putting in a truck wash, fencing and gates.
"The consent process and site preparation took the owner 2 years to complete at an estimated cost of over $1.7 million. This is a big advantage for a new purchaser because a lot of the hard work has already been done," Snijder says. "There is also the possibility of adding a rail siding to the site if needed because the main trunk line runs right along its boundary. This is a golden add value opportunity for an investor, owner occupier or developer to purchase a large parcel of industrial land that is ready to build on."
Snijder says there has been strong interest shown in the property which is not surprising considering that large and well located development sites like with good motorway access are hard to come by. "There are few on the market and even fewer with most of the needed infrastructure in place," he says.
"This would be a very cost effective solution for a company that needs space for a substantial building but can't afford locations such as East Tamaki or Penrose where the cost of the land is around $400sq m. A lot of companies that want to expand to the next level of growth are finding it is just too expensive in some of Auckland's industrial areas."
The Parker St site is at the end of a cul-de-sac and also has small frontage to Boundary Rd. It is surrounded by other well-established industrial premises and is in two similarly sized titles, one of 1.4591 ha, the other 1.4160 ha.
'They have a combined July 2011 capital valuation of $2,650,000 which did not take account of the considerable expenditure on site works and services," says Snijder.
The property is used for storage on a casual, month-to-month tenancy which is producing $24,000 per annum.