7 NICHOLAS ST, AUCKLAND CITY
SIZE:
Land 73sq m, house 60sq m.
PRICE INDICATION:
Interest expected above the CV of $390,000. Auction Wednesday July 31.
INSPECT:
Sat/Sun 1.15-1.45pm, Wed 5.30-6pm.
SCHOOL ZONES:
Freemans Bay School, Ponsonby Intermediate, Auckland Girls' Grammar, Western Springs College.
CONTACT:
Roshni Sami, ph 0221 995 700, or Peter Thomas, 0274 901 306, RE/MAX Real Estate.
FEATURES:
Worker's cottage (1895), weatherboard and tin roof. Rewired, repiled, new roof about six years ago. Open-plan living, French doors to deck with view of Sky Tower; two double bedrooms, many original features, modern kitchen and bathroom.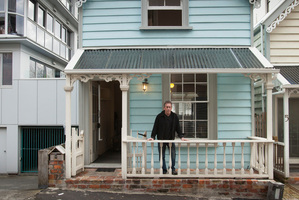 As acts of defiance go, the flour-bombing of the All Blacks-Springboks rugby test in 1981 is one of the most memorable in New Zealand's history.
The pilot of the light aircraft that buzzed and bombed Eden Park that day was Marx Jones, one of many protesters trying to stop the game in a statement against apartheid in South Africa.
So it's no surprise that Marx, something of an anti-establishment figure, is the man responsible for another act of defiance: resisting the march of progress when he saved two kauri cottages up for demolition that sit in the middle of the city surrounded by tower blocks. Marx, a builder, bought the cottages in 2005 and renovated them sympathetically with recycled and new materials.
He still owns one of the circa 1880s cottages but sold the other to Glyn Primrose about six years ago.
"I bought it because Marx is a mate of mine and, when I heard he was selling it, I came to have a look," says Glyn. "I didn't even know there was a house down here and when I saw it I thought, 'Far out'.
I bought it as an investment, really, but it's been a nice place to live.
"It doesn't move or creak or moan or leak, and there's no ghosts, so that's a bonus."
Nicholas St is a narrow lane that snakes between Hobson and Nelson streets so it's handy to work for Glyn, a co-owner of the City Garage, just off Queen St.
When Glyn bought the house, it had been re-wired, reroofed and repiled. He says Marx also put in thicker gib to cut out city noise although some of the original timber wall linings remain in parts of the house.
From the street, the two-storey house looks original with its finial, fretwork and turned balustrades injecting character into a neighbourhood of concrete towers. Clear polycarbonate roofing covers the porch, which opens directly onto the footpath. Glyn points out the rubber pad under the latch of the porch's gate - designed to deaden the sound of it closing, presumably, he says, so the man of the house could come in late at night without waking up "her indoors".
He also shows off the original door and its oversize "jailer's key", one of the home's many original features.
Inside, the open-plan living area and kitchen have a mix of sash and casement windows with French doors to a rear deck. The east-west orientation of the house means the sun pans across it year-round despite its high-rise neighbours. Clear polycarbonate roofing covers the kitchen to allow in more light.
Glyn says because Marx did such a good job renovating he has made few improvements in the time he has been here although he has put in a new kitchen and bathroom, and fitted underfloor insulation.
Also original is the narrow staircase to the two top floor bedrooms. Each has a skylight that offers views of surrounding buildings including Sky Tower.
Glyn says he has decided to cash up his investment - probably to buy a boat - but he has enjoyed the downtown lifestyle here.
"It's better than having an apartment because you don't have a body corporate; just $1200 in rates. And you own your own destiny; you own the land and even the sky above it is worth something they reckon, and you don't have to worry about anyone in the next-door apartment giving you any grief here."