335 GLENMORE RD, COATESVILLE
SIZE:
Land 1.05ha, house 672sqm.
PRICE INDICATION:
Interest expected above CV of $2.3 million. Expressions of interest close August 21.
SCHOOL ZONES:
Coatesville primary, Albany Junior and Albany Senior High.
CONTACT:
Willi Bardohl, Bayleys, ph 021 192 2925 or (09) 487 0610.
FEATURES:
Designer house in rendered brick. Formal and informal living, outdoor room, home theatre, guest wing. Landscaped grounds including decks and in-ground pool. Kristin and Pinehurst private schools nearby.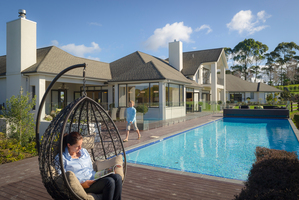 Four years ago, Englishman Richard Gradowski-Smith and his father-in-law Victor flew into Auckland from England on a shopping trip. They returned home with this family house in their sights and the prospects of a rural lifestyle that was looking brighter by the day.
Certainly this property was sight unseen for Richard's wife Rachel and their sons Luke and Sam, but they had holidays in New Zealand a year earlier and were familiar with the elegant, spacious homes in rural north Auckland.
"Coatesville really grabbed us," says Rachel. "It left a real impression in our minds. On that trip we just fell in love with the whole country, really. We knew it was going to be a great place for our boys to grow up in."
By September 2010 they were in their new home, having waved goodbye to their larger 3.2ha equestrian property in England. Three months later, they welcomed Victor and his wife Janet into their new Kiwi abode in nearby Greenhithe.
For Richard, a trained chef with a background in hospitality start-ups, and Rachel, a keen dressage rider, this smaller acreage close to Coatesville's beating heart and with a bus stop right outside the gate for Luke, 12, and Sam, 9, was the perfect first home Downunder.
Their task then was to inject style into a house that had just been completed by its developer.
"It was the perfect blank canvas for us to put our own stamp on," Rachel explains. "The simplest way of summing it up is to say that they built the house in the middle of a paddock and we have created everything else around it."
The house, with its brick exterior, asphalt shingle roof and American oak floors, unfolds over one level with a central staircase up to the master bedroom, dressing room and en suite.
Their formal lounge, informal "breakfast room", dining area and kitchen with a butler's pantry the size of a regular kitchen all spill out to the lawns, level decks and pool that overlook their valley. There's also an outdoor lounge room with a wood-burning fireplace and chandelier off the kitchen and near the deck.
Downstairs, towards the opposite end of the house, there's a home theatre, the boys' bedrooms and their three-room bathroom suite comprising a toilet, shower and bath, and twin vanities. The guest wing with two bedrooms at the end takes in the front and rear gardens.
Rachel has worked a green-and-white theme into the decor throughout, with textured wallpaper feature walls and subtle patterned curtain fabrics. Landscape designer Robin Shafer has incorporated those same colours into the English planting immediately around the house and the New Zealand natives in the wider, curved garden beds.
Richard chose South Island schist for their traditional-style front fence, and front gates were built to match the double front doors of the house.
Out front, there's an element of glamour in the water feature and practicality in the flat lawn, the boys and their friends to kick a ball around on.
Down in the steep valley, three re-homed kunekune pigs are well settled, but there are two more key members of their animal family missing from this picturesque scene. There's simply not enough flat land for Rachel and Sam to bring their horses here and for Luke to ride his quad bike on.
Says Richard, "We hadn't realised what a big gap there was in our lives without our horses. Although our property in England was a big commitment, we've missed the flat land. We want to stay in the area here and that's what we're looking around for now."