Lack of business zoned land likely to halt new construction as firms look to migrate north to Silverdale.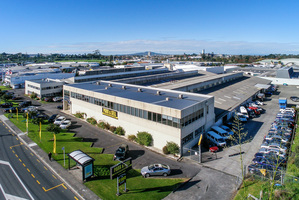 North Shore industrial property development activity is picking up with a continuation of steady leasing demand and an active owner-occupier market, but a shortage of business zoned land will act as a brake on new construction, says Bayleys North Shore Commercial.
In the year to June 30, 2013, Bayleys North Shore's industrial sales and leasing team, headed by Laurie Burt and Matt Mimmack, completed 77 leasing transactions - up 20 per cent on the previous year.
The deals encompassed more than 36,000sq m of space at a total annual rental of approximately $4,255,000. Net rentals on industrial leases concluded by Bayleys North Shore in the June 2013 year ranged in value from $10,000 to $398,000 per annum.
Mimmack says leasing activity for larger premises over 1000sq m slowed in the first half of 2013, reflecting a shortage of supply, but smaller premises are attracting good levels of tenant inquiry with multiple offers being received on better quality premises.
"The continuing decline in vacancy levels for industrial premises on the Shore is sparking more development activity," he says.
"A number of larger, well established players like Kea Property and Goodman Group, with its Orchard Park development in Albany, are focused on providing substantial design-build projects for committed tenants or end owners.
"There has also been one speculative development at the smaller end of the market in Albany which has met with reasonable take-up from tenants and it is likely we will see more of this."
Burt says he is working with two land owners in John Glenn Ave in Albany who are looking at purpose-built premises for their own use but who are also developing other buildings on surplus land on a speculative basis.
However, Mimmack says an increasingly limited supply of vacant land suitable for development on the Shore is likely to act as a handbrake on new building projects particularly as land prices are now getting back to a level where it is hard for developers to make industrial projects stack up based on current market rents.
A shortage of land on the Shore has resulted in business migration northwards to Silverdale where Rosemary Wakeman of Bayleys North Shore, who specialises in this area, is marketing one new development which will provide premises from 448sq m to 620sq m suitable for engineering, manufacturing and distribution tenants. However, Wakeman says a significant take-up of land in Silverdale over the past few years means it is becoming harder for "heavy" industrial businesses to find suitable locations there.
Burt says the next big wave of development is likely to occur in the northwest around Hobsonville where a number of savvy developers such as Jomac and Neil Properties have already acquired large land holdings.
Bayleys Research's annual Auckland industrial occupancy survey measured the vacancy rate in the North Shore's largest industrial precinct of Albany at 6.2 per cent earlier this year. This is the lowest level it has been since 2006 and is well down on its post global financial crisis high of close to 10 per cent in 2009.
Burt says vacancy levels are even tighter in the Shore's next biggest industrial precinct of the Wairau Valley where the sector is being squeezed by the continuing expansion of bulk retail premises and leisure and entertainment businesses. In one of the biggest transactions concluded in the last year, the former 4067sq m distribution centre of electrical trade supplier HPM NZ at 10 Target Court in Wairau Valley has been leased to Coin Cascade Ltd by Christina Heaven of Bayleys North Shore.
The warehouse, built in the 1990s, is being converted to an Xtreme Entertainment complex which will include New Zealand's largest children's playground. A major attraction for the tenant was the ample parking for more than 100 cars available on the 8000sq m site.