22 ROYAL TCE, SANDRINGHAM
SIZE:
Land 538sq m, house 146sq m (excluding basement).
PRICE INDICATION:
CV $930,000. Auction July 28 at 11am on site (unless sold prior).
INSPECT:
Sat/Sun 1-1.30pm.
SCHOOL ZONES:
Kowhai Intermediate, Auckland Girls' Grammar, Mt Albert Grammar School, Balmoral School.
CONTACT:
Marc Collins, Custom Residential, ph 0274 485 961.
FEATURES:
Renovated three-bedroom villa with spacious and sunny living, great indoor-outdoor flow, double garaging and easy access to the city.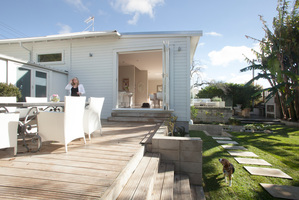 Most property owners who have endured a few punishing home renovations will relish the idea of buying a house that doesn't need any work.
Sarah Foote is no exception.
After renovating her first house when she was in her early 20s, then doing up another home in St Marys Bay, Sarah was ready for a break.
"I loved the fact that everything here had been done. It's not a large house but its renovation has made it sunny and light and it feels really spacious."
After living in Ponsonby, she and husband Oliver were tentative at first about moving to Sandringham as they knew little about the area.
But Sarah says this north-facing house in Royal Tce, which has 538sq m of level land, was good value for money and they immediately felt welcome in their new neighbourhood.
"Our last property was on a much smaller patch of land and on the wrong side of the street. After we moved in here, I realised how good it makes you feel living in a house that gets great sun."
Royal Tce, which runs east off Sandringham Rd and is only a few minutes' walk from the Kingsland railway station and Eden Park, has a mix of older and younger residents including many in their 30s like Sarah and Oliver.
The early 1900s villa is positioned well on its site with most of its land at the private, north-facing back. At this end of the house, French doors from the large, open plan living room, dining room and kitchen lead out to a stylish deck, barbecue area, courtyard and wide lawn that are ideal for entertaining.
"We had about 50 people here for my birthday and the space was perfect."
Being close to Eden Park has been an unexpected positive aspect of living in the area.
"Friends will often pop in for a drink or for dinner if they or their partners are going off to watch a game at Eden Park, so it has been a very sociable place to live."
Landscaping in the back garden includes an impressive stand of banana palms, concrete pavers interplanted with mondo grass, a cluster of mature palms and rows of white standard roses, which Sarah has added more recently.
She loves white, so the simple but striking interior decor of the house appealed to her.
This includes white walls, blonded wooden floor boards, white window shutters and a pristine white kitchen with generous cupboard space.
Typical of its era, the house has a wide central hallway with its three bedrooms and the main bathroom off to each side. The large master bedroom on the southeast side of the house has a bay window, large wardrobe and en suite with shower.
The two other bedrooms to the left of the hallway both open out to an L-shaped, covered veranda that wraps around the front and western side of the house.
To the right of the house is a double garage with access down one side to the back garden. Stairs from the lawn here lead down to a small basement with separate toilet which could be used as a storeroom or home office.
Two years of living here have given Sarah and Oliver time to catch their breath. Now they hope to find a large, double bay villa - and renovate it.